Drone hits oil terminal in Sevastopol – governor
A massive blaze has engulfed a fuel storage facility in the Crimean port city that hosts Russia's Black Sea Fleet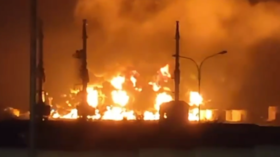 An oil storage facility in the city of Sevastopol was targeted by an unmanned aerial vehicle on Saturday morning, according to preliminary information shared by local governor Mikhail Razvozhayev.
"All security and rescue services are on the scene. The area of the fire is about 1,000 square meters," Razvozhayev wrote on Telegram around 5am local time, blaming a suspected UAV strike.
Multiple videos shared by eyewitnesses show a massive fire lighting up the night sky. Footage taken after dawn shows a column of black smoke covering the sky above the city.
"There is no threat to civilian infrastructure," the governor later added from the scene, confirming there were no casualties or injuries. The authorities urged people to remain calm as at least 60 firefighters, 18 engines, and a fire train worked to tackle the blaze.
The blaze at the facility was extinguished on Saturday afternoon, Razvozhayev said later in the day. The governor also revealed that the oil storage had been targeted by at least two unmanned aircraft, the first of which was shot down by the depot's guards. The second one, however, made it through, causing the massive fire.
Earlier this week, the city was targeted by two naval drones, one which was destroyed by Russian forces, while the other self-detonated in the outer harbor, with none of the facilities in Sevastopol suffering damage.
Located on the southwest coast of Crimea, which joined Russia following a referendum in 2014, the strategic port city is home to Russia's Black Sea Fleet and has been targeted by drone strikes on numerous occasions since Moscow launched its military campaign in Ukraine last February.
The Russian authorities have blamed the attacks on Ukraine, which considers Crimea to be an inalienable part of its territory that is "temporarily occupied" by Russia. Ukrainian President Vladimir Zelensky has repeatedly vowed to retake the peninsula by any means necessary.
You can share this story on social media: