Russia amends treason law
A bill approved by the parliament allows offenders to be locked up for life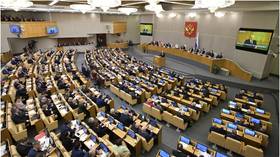 Russians convicted of treason can be sentenced to life behind bars, according to a bill passed on Wednesday by the Federation Council, the upper house of parliament.
The current punishment for treason is 12-20 years in prison and a fine of up to 500,000 rubles ($6,100).
Article 275 of the Russian Criminal Code defines 'treason' as espionage, providing state secrets to foreign countries and entities, "defection to the enemy," as well as aiding "a foreign country, an international or foreign organization, or their representatives, whose actions are directed against the security of the Russian Federation."
The State Duma, the lower house of parliament, approved the bill last week. The next step is for the document to be signed into law by President Vladimir Putin.
Vasily Piskaryov, the head of the State Duma security committee, said earlier this month that the change would allow offenders to be sent to maximum security prisons and would significantly raise the bar for parole. "Maintaining the security of Russia is our utmost priority," the MP from the ruling United Russia party wrote on Telegram.
The bill also raises the maximum punishment from 15 to 20 years for terrorist attacks and sabotage in cases in which the acts do not result in deaths. It also raises the minimum punishment from 5 to 7 years for recruitment into terrorist activities and from 10 to 12 years for aiding terrorists.
Being a member of a terrorist group would be punishable by 10-15 years in prison instead of the current 5-10 years.
Russia has introduced more severe punishments for several offenses since Moscow launched its military operation in Ukraine in February 2022. Last year, the maximum penalties were raised for desertion, looting, and disobeying orders by service members.
You can share this story on social media: