Kremlin explains seizure of foreign assets
The move involves utilities owned by Finland's Fortum and Germany's Uniper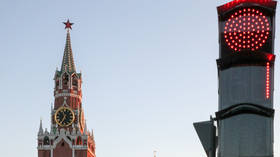 Taking control of strategic foreign assets in Russia will enable Moscow to respond effectively to the potential confiscation of Russian companies' property abroad, Kremlin spokesman Dmitry Peskov said on Wednesday.
Russian President Vladimir Putin signed a decree on Tuesday allowing for the temporary takeover of foreign assets deemed critical for the country's energy security. The Federal Property Management Agency was ordered to establish external control of the Russian subsidiaries of Finnish energy company Fortum and Germany's Uniper.
According to Peskov, the two companies' assets were placed under the agency's administration as soon as the decree was signed by the president.
The spokesman added that the move "mirrors the attitude of Western states towards foreign assets belonging to Russian companies."
"The main goal of the step is to create a compensation fund for potential use in tit-for-tat measures in response to the expropriation of Russian assets abroad," Peskov said. He added that a number of states systematically carry out a rapid transition from temporary administration to actual confiscation.
The decree does not deal with property issues and does not deprive the owners of their assets, Peskov stressed, noting that the list of assets subjected to the measure could be expanded.
Uniper, listed in an addendum to the decree, owns 83.73% of Unipro, which operates five power plants with a total capacity of over 11 gigawatts in Russia and has about 4,300 employees. Finnish state-owned Fortum holds a 98.2% stake in local subsidiary Fortum PJSC.
The Russian response comes months after similar moves were made by Germany and Poland. In June 2022, the German authorities took over Gazprom Germania. In November, Warsaw seized Gazprom's 48% stake in the EuRoPol GAZ joint venture, owners of the Polish portion of the Yamal-Europe pipeline. The Polish subsidiary of Novatek, which dealt in liquefied natural gas and other hydrocarbons, was also seized. Its assets were put up for sale earlier this month.
In September 2022, Berlin seized Rosneft's stake in three major oil refineries, accounting for 12% of the country's total refining capacity. Rosneft's complaints against the move were dismissed by German courts. A law enacted by the Bundestag on April 20 allows for the outright expropriation of Russian assets by Germany.
For more stories on economy & finance visit RT's business section
You can share this story on social media: