New Russian 'LGBTQ propaganda' rules unveiled
Media watchdog Roskomnadzor will block websites that promote pedophilia, non-traditional relationships, and gender reassignment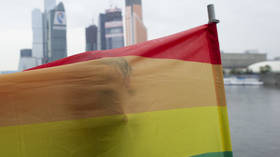 Russian media watchdog Roskomnadzor officially approved on Wednesday an expanded set of criteria for what is to be considered 'LGBTQ propaganda', which can be grounds to block access to websites.
This comes after the Federal Service for Supervision of Communications, Information Technology and Mass Communications issued an order to broaden and specify the definitions of LGBTQ propaganda and pedophilia online.
The new set of norms will come into effect on September 1, and will be valid for the next six years, according to the document, which was published on Russia's official internet portal of legal information.
Under the order, Roskomnadzor will be authorized to block access to websites that feature content depicting children imitating or taking part in sexual activities, child genitalia in a sexual context, information about obtaining, creating, or sharing child pornography, as well as content aimed at provoking sexual attraction towards children or justifying sexual relations with minors.
The watchdog will also be able to block websites that promote and arouse interest in non-traditional sexual relationships and that attempt to portray them in a positive light or as superior to traditional relationships. Sites that try to create a "distorted idea of the social equivalence of traditional and non-traditional sexual relations, preferences and attitude" will also be banned, as will websites that try to justify the rejection of traditional sexual relations in favor of non-traditional relations.
Roskomnadzor will also clamp down on websites that are aimed at forming a positive attitude towards gender reassignment, and providing rationales or justification for sex-change operations and that discuss the benefits.
The bill also mentions content about suicide, drug use and manufacturing, and improvised bomb and gun making.
Russia initially banned 'LGBTQ propaganda' aimed at minors in 2013. Last December, President Vladimir Putin officially signed a law that tightened the restrictions. The legislation introduced hefty fines for those found guilty of promoting "non-traditional sexual relations," pedophilia, and transgenderism among both minors and adults through books, cinema, the media, and websites.
You can share this story on social media: