Russia may deport Chinese man for 'LGBT propaganda'
The 21-year-old ran into legal trouble over gay-themed content he and his boyfriend produced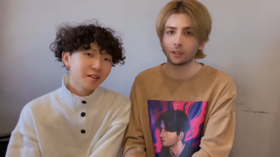 The Supreme Court in the Russian region of Tatarstan has rejected an appeal against an order to deport Chinese citizen Haoyang Xu over "LGBT propaganda." The 21-year-old, who is in Russia on a student visa, shared video content about his life with his boyfriend on social media.
Xu and his Russian partner Gela Gogishvili, who is 23, drew the attention of Russian law enforcement in late February, when police received a complaint about their video channels.
The vlogger duo recorded footage of themselves, including some showing themselves half-naked and cuddling and kissing in bed. The videos were shared with tens of thousands of subscribers on TikTok, Telegram, and YouTube.
After an investigation, the police charged them with an administrative violation of a law that forbids showing gay content to minors. As a Russian citizen, Gogishvili may be fined as much as $2,500 for his alleged misdemeanor, though his case is yet to be reviewed by a court.
Xu, being a foreigner, faces possible deportation. A district court in Kazan, Tatarstan's provincial capital, chose that punishment in a ruling last week, but his lawyers appealed it.
The rejection of the appeal on Thursday by the region's top court is not the end of Xu's legal battle. His attorney, Maria Varaeva, said that the defense team will keep challenging the order to deport her client in higher-tier courts and will go as far as the Russian Supreme Court.
During the hearing, Varaeva disputed the police assessment that there were some 1,800 minors among those who watched the YouTube channel featuring Gogishvili and Xu. It has over 67,000 subscribers, though their TikTok feeds dwarf that, boasting over 740,000 followers in total.
The gay couple explained in a video that they were being "hunted by homophobes and xenophobes and also the Russian police." They claimed they tried to comply with the law by hiding their content from Russian viewers, after learning about the complaint in early March.
Russia initially banned "LGBT propaganda" to minors in 2013. Last December, the restrictions were toughened further to prohibit the promotion of non-traditional sexual relations or preferences, pedophilia, and transgenderism to any audiences. The deportation clause was added to the Russian code of administrative violations after the new law was adopted.
You can share this story on social media: