Russia opens landmark LGBT propaganda case
The investigation was launched against a publisher accused of disseminating content promoting non-traditional sexual relations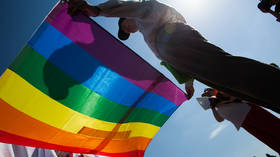 Russia's Interior Ministry has launched its first investigation under new LGBT propaganda laws, the chairman of the State Duma Information Policy Committee announced on Tuesday.
Alexander Khinshtein said case was opened against Moscow-based publisher Popcorn Books, which has been accused of illegally selling literature promoting non-traditional sexual relations.
"This publishing house has played a leading role in promoting LGBT literature in Russia," wrote Khinshtein, who was one of the architects of the recently expanded legislation restricting LGBT propaganda in the country.
The law was signed by Russian President Vladimir Putin last month, and introduced hefty fines for those found guilty of promoting "non-traditional sexual relations," pedophilia and transgenderism among both minors and adults through books, cinema, the media, and websites.
"After our laws banning LGBT propaganda came into force in December, Popcorn Books not only continued to sell such books, but defiantly began to decorate their covers with quotes from Article 29 of the Constitution, which guarantees freedom of speech and prohibition of censorship," Khinshtein added.
One of the most controversial items released by Popcorn Books was a novel titled 'Summer in a Pioneer Tie', which focuses on the homosexual relationship between a teenager and a summer camp counselor during the Soviet era. The book reportedly sold over 200,000 copies but was heavily criticized by many conservative public figures, who called for the sale and distribution of the novel to be banned.
In his Telegram post announcing the investigation, Khinshtein added that he hopes the case will make it to court and that the publisher that decided to "throw the government an open challenge" gets what it deserves.
You can share this story on social media: