US-made kamikaze drone hits Russia – media
A Switchblade UAV has reportedly been used in an attack on Belgorod Region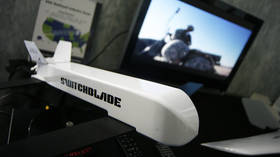 Ukrainian forces have allegedly used a US-made unmanned aerial vehicle (UAV) in an attack on Russian territory for the first time, the Mash and SHOT outlets reported on Tuesday.
A Switchblade drone, produced by the American AeroVironment company, reportedly flew into Russian airspace from Ukraine before downing in Russia's Belgorod Region, bordering Ukrainian territory. The UAV fell just around 500 meters away from the border without inflicting any damage or casualties, local news outlets said.
Neither Mash, nor SHOT provided any photos or video from the alleged drone crash site and the Russian military has not yet commented on the incident.
The Switchblade is a miniature kamikaze drone capable of dive-bombing targets. It can weigh up to 15 kilograms and has a length of between 49 and 130 centimeters depending on the modification. The US has supplied Kiev with some 700 Switchblade drones, as well as 1,800 Phoenix Ghost kamikaze drones.
Russia has repeatedly witnessed Ukrainian drone attacks, particularly in its regions bordering Ukraine, amid the ongoing conflict between Moscow and Kiev. Some Ukrainian attacks also targeted regions deeper inside Russia. In March, one of three people as an explosives-laden UAV hit a town in Tula Region located south of Moscow, some 250km away from the nearest border with Ukraine.
In December 2022, Ukrainian UAVs attacked Dyagilevo and Engels military airfields located 500km (310.6 miles) and 700km (435 miles) from Ukrainian-held territory, respectively. Three servicemen were killed and two aircraft received minor damage, the Russian Ministry of Defense said at the time.
Ukrainian forces usually used locally-produced or Soviet-made drones like revamped Tu-141 Strizh ('Swift') reconnaissance UAVs in such attacks, according to media reports. In February, Mash reported that a Ukrainian drone that crashed in an apartment block in the Russian city of Belgorod was carrying a "British-made plastic explosive device containing metallic shrapnel."
Moscow has repeatedly accused the collective West of enabling Ukraine to strike deeper into Russian territory. In his annual address to the Federal Assembly in February, Russian President Vladimir Putin said Kiev's handlers had been directly involved in drone attacks on the country's facilities housing strategic, nuclear-capable aviation.
The US and its allies have been supplying Kiev with all sorts of weapons ranging from portable anti-tank missiles to infantry fighting vehicles, tanks and artillery pieces. Yet, Washington has repeatedly refused to provide the Ukrainian troops with longer-range weapons like the ATACMS surface-to-surface missiles, citing a risk of an all-out war between Russia and NATO if such weapons were used to target Russian territory.
You can share this story on social media: