Ukrainian drone attack repelled in Crimea
No military installations were in the vicinity, an aide to the regional leader has claimed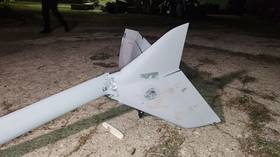 Several Ukrainian drones were brought down by air defenses in the town of Dzhankoy in Crimea late on Monday, local officials have said.
Debris from the destroyed UAVs damaged a house and a shop in the area, the leader of the Republic of Crimea, Sergey Aksyonov, wrote on Telegram on Monday. One person was injured in the incident, he added.
The victim was a 33-year-old male who suffered shrapnel wounds. He was hospitalized, and his life is currently not in danger, the head of the Dzhankoy administration, Igor IvIn, told local media.
"All of the drones were aimed at civilian targets… There are no military facilities nearby," Aksyonov's aide, Oleg Kryuchkov, wrote on Telegram early on Tuesday.
One of the UAVs was destroyed above a technical college, crashing to the ground between an academic building and a dormitory. "The rest were shot down over residential areas," he said, without specifying how many drones were flying.
"Besides the explosives, each of them contained shrapnel," the aide added.
Kryuchkov also shared photos of debris from the downed aircraft on his Telegram page, which showed that the drones bore stickers of the 'trollface' internet meme. He called it "a special type of cynicism" to decorate UAVs that target civilians in such a way.
The foiled attack took place just days after Crimea celebrated the ninth anniversary of its reunification with Russia as a result of a referendum, a move that was supported by an overwhelming majority of the local population. The peninsula officially became part of Russia on March 18, 2014, shortly after a violent coup in Kiev.
Ukrainian officials usually either deny or refuse to confirm involvement in incursions inside Russian territory, but have said that they view sites in Crimea as legitimate targets.
Last month, US Deputy Secretary of State for Political Affairs Victoria Nuland said Moscow has turned Crimea into a military base with command posts, logistics depots and airfields amid its conflict with Kiev.
"Ukraine is not going to be safe unless Crimea is – at a minimum, at a minimum – demilitarized," Nuland insisted, adding that Washington was "supporting" Ukrainian attempts to hit targets on the peninsula.
Former Russian president Dmitry Medvedev, who now serves as deputy chair of the national Security Council, warned in February that any strikes inside Crimea would be "met with inevitable retaliation using weapons of any kind."
You can share this story on social media: