Ukraine could enact 'full mobilization' – Pentagon leaks
The situation will make "leadership changes" more likely in Kiev, US military planners reportedly believe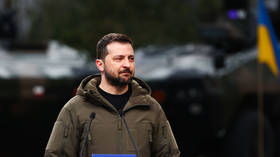 The US believes that neither Ukraine nor Russia will achieve major gains on the battlefield this year, and that the ensuing stalemate will force Kiev to call up every last available man to fight, according to leaked Pentagon documents cited by the Washington Post.
The US Defense Intelligence Agency views both Kiev and Moscow as having "insufficient troops and supplies for effective operations," and as such predicts that the conflict in Ukraine will drag on into 2024, with both sides achieving only "marginal" territorial gains this year, the newspaper reported on Wednesday.
Nevertheless, "negotiations to end the conflict are unlikely," the agency reportedly wrote in its assessment, which was included in a trove of leaked documents. The Post and a number of newspapers have published information from some of these documents, while simultaneously helping the government track down the suspected leaker, who was arrested by the FBI on Thursday after the New York Times published his identity.
In a protracted conflict with little chance of victory or negotiations, it is Ukraine that will pay the heaviest price, the Pentagon reportedly believes. Such a stalemate will force Kiev to enact the "full mobilization" of its remaining male population, the Post reported, a move that will trigger public "criticism" of Vladimir Zelensky's government and make "leadership changes more likely."
The document also gives scenarios in which Ukraine either scores a decisive victory, forcing Russia to escalate or negotiate, or Russia scores a victory that enables it to demand regime change in Kiev. However, the stalemate outcome is reportedly listed as "the most likely scenario."
Kiev's efforts to conscript civilians into military service have proven unpopular, with numerous videos surfacing showing men being forcibly detained on the streets and press-ganged into service. With Ukrainian lawmakers reportedly considering expanding the draft, many of those already in uniform have been funneled into the encircled Donbass town of Artyomovsk (known as Bakhmut in Ukraine), which they consider no longer worth defending.
Other recently leaked Pentagon documents revealed that, as of February, the US believes Ukraine has suffered up to 131,000 casualties in the conflict thus far, including up to 17,500 killed. Establishing a true body count is difficult, as Ukraine rarely publishes its losses. Last autumn, EU Commission President Ursula von der Leyen put Kiev's fatalities at 100,000, a claim that was disputed by Kiev and later removed from the EU's websites.
The Post noted that the documents did not specify whether a "leadership change" in Kiev refers to a rotation of political leaders or military brass.
Officials in Kiev are reportedly outraged over the leak, which also included information suggesting Ukraine is ill-equipped to mount its long-promised spring counteroffensive.
You can share this story on social media: