Conscription may be intensified in Ukraine – Zelensky ally
Kiev may need more troops to possibly fight against Belarus, a top MP in the president's party has said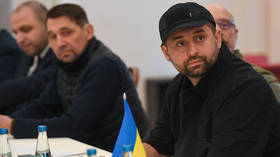 Ukraine may need to conscript even more people into military service to potentially fight against Belarus, a key ally of President Vladimir Zelensky has told British television.
David Arakhamia, an MP who heads the faction of the president's Servant of the People party in the Ukrainian parliament, spoke of a potential a clash with Belarus during an interview with SkyNews on Monday. He was commenting on Russia's announcement last week that it would place tactical nuclear weapons at a facility currently being built on Belarusian soil.
"I think we are facing a real challenge to have a second front opened," the Ukrainian lawmaker said.
That would mean a real challenge to get even more people to conscript into the army, because we will need at least eight more brigades to control the frontline.
However, Arakhamia downplayed his own concerns by saying that much of the border his country shares with Belarus is rough terrain dominated by swamps and forests, which makes it easier to defend. He also acknowledged that despite Kiev perceiving Belarus as "the same aggressor as Russia," there actually was "no evidence during one year of war … of any Belarussian soldier crossing the Ukrainian border."
President of Belarus Alexander Lukashenko has allowed the Russian military to use his nation's territory in its military operation against Ukraine, but has repeatedly stressed that Belarusian troops were not participating in the conflict.
Meanwhile, Russian President Vladimir Putin said that the decision unveiled on Saturday to place nuclear weapons in Belarus was a step prompted by the UK's announcement that it would send depleted uranium munitions to Ukraine. Putin did say, however, that Lukashenko "has long been asking" for such weapons to be hosted on Belarusian soil.
Ukraine is believed to have suffered significant casualties in the conflict with Russia, in part because Kiev has reportedly been sending untrained soldiers to the frontline as it keeps its more experienced troops behind for an expected counter-offensive.
Ukrainian military officials have already ramped up their mobilization efforts, according to various media sources. Reports have surfaced of conscription officers conducting raids at places where military-age men congregate, such as markets and night clubs.
Some Ukrainians appear willing to risk their lives to avoid joining the military. Last week, a 23-year-old man drowned while trying to sneak into Romania across the Tisza River. This was reportedly the 14th such fatality this year alone.
A spokesman for the Ukrainian border guard service discouraged draft-dodgers from seeking asylum in the EU, noting in an interview on Monday that if the man had succeeded in his border crossing, "he would have been returned to Ukraine."
You can share this story on social media: