Russian and Belarusian triathletes cleared to compete
However, the sport's governing body will require them to participate under a neutral flag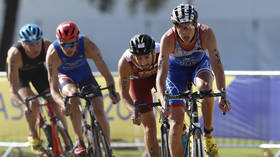 World Triathlon's executive board has lifted its sanctions on Russian and Belarusian athletes and will allow them to compete again under a neutral flag. The decision follows a recommendation by the International Olympic Committee (IOC), although Moscow has fiercely condemned some of its restrictions.
The board announced its decision on Thursday, stating that it would work with the IOC to establish a review process to clear "independent neutral athletes" from Russia and Belarus for competition.
"The Executive Board reaffirms its solidarity with Ukraine," World Triathlon said in a statement, adding that "the independence of any athlete or official was an absolute condition of their returning to a World Triathlon event."
The organization barred Russian and Belarusian athletes from participation last March, days after Moscow launched its military operation in Ukraine. At the time, World Triathlon was following the lead of the IOC, which recommended that all international sporting organizations impose a similar ban until further notice.
The IOC changed its recommendations last month, replacing them with a set of restrictions. Under the new proposals, Russian and Belarusian athletes are permitted to compete in international events, but only under a neutral flag, and as long as they have no connection to the Russian or Belarusian militaries or security agencies.
Furthermore, the IOC said that "athletes who actively support the war" will be forbidden from competing, while committees would be established to comb through past remarks by sportsmen and women in search of statements that support the actions of the government.
"The announced recommendations are absolutely unacceptable," Russian Olympic Committee President Stanislav Pozdnyakov said in response. "Neutral status is a violation of human rights, which was pointed out by a UN representative. We consider the proposed conditions unreasonable, legally void and excessive."
The IOC also recommended that a ban on team competitions remain in place.
You can share this story on social media: