Olympic legend calls for tough line on IOC
The organization is undermining its own charter with Russian flag restrictions, hockey icon Vyacheslav Fetisov has claimed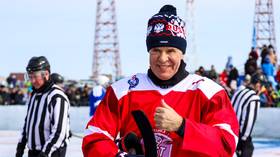 Legendary Russian hockey player Vyacheslav Fetisov has lashed out at the president of the International Olympic Committee (IOC), Thomas Bach, over the organization's treatment of Russian and Belarusian athletes. Fetisov believes they should be allowed to compete under their national flags.
"Since the Cold War there have not been such decisions by the IOC," Fetisov said of the latest recommendation to international federations regarding Russian and Belarusian athletes. "There were boycotts, there were protests, but I cannot recall anything like that."
He described the current situation as "lawless and unprecedented" and argued nothing good would come of it.
"How will the decisions be taken in the next conflict?" Fetisov asked in an interview with the Moskovsky Komsomolets newspaper, an extract from which was published on Monday. "Thomas Bach is no longer the IOC president in my eyes. If you can't uphold Olympic rules – resign."
In late March, the IOC issued a recommendation to international federations on allowing Russian and Belarusian athletes to compete. It advised letting them do so only as individual athletes – ruling out team sports – and only if they do not support Russia in the Ukraine conflict. The committee also urged mandatory doping tests, as opposed to random checks.
The new recommendations are less restrictive than the previous blanket ban on Russians and Belarusians, which was how the body responded at the start of the operation in Ukraine in late February 2022. The IOC has since argued that total prohibition is discriminatory in nature.
Fetisov was one of the most prominent ice hockey players of the Soviet era, and won two Olympic gold medals and one silver. He is among a number of Russian public figures to strongly criticize the IOC's latest decision. The hockey icon partially blamed Russia for the situation, saying Moscow "constantly walked back on our position," and stressed the need to send a clear and uncompromising message to the IOC.
"We'll be back only if our flag and anthem are back. Otherwise amend the Olympic Charter to legalize your decisions. Or kiss us goodbye," he insisted. Taking such a stance would stop the "horseplay" surrounding admission to the Games, Fetisov said.
You can share this story on social media: