Germany to defy Olympic bosses over Russian athletes
Berlin will not follow advice from the International Olympic Committee (IOC) to allow competitors participate under a neutral flag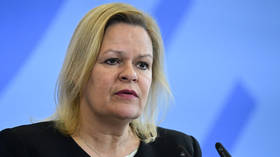 Germany will not issue visas to Russian athletes for events taking place in the country, even if they are greenlighted to compete by the International Olympic Committee (IOC) and sports federations, German Interior Minister Nancy Faeser has announced.
"Countries where major sporting events are taking place aren't powerless. One can control if the Russians can actually participate through the visa issuance process," Faeser said in an interview with Funke media group outlets on Monday.
When Germany hosts international competitions, "we'll act accordingly. We'll always act with a clear stance here," she insisted.
"Offering warmonger [Russian President] Putin a propaganda platform would betray all the values of sport," Faeser claimed.
However, the minister rejected the idea of Germany boycotting the 2024 Olympics in Paris. In recent months, Ukrainian President Vladimir Zelensky has urged countries not to send athletes to the French capital in the event that Russians are allowed to take part in the Games.
"This would harm our [German] athletes, who worked towards this goal for a long time," Faeser said.
Last month, the IOC issued a set of recommendations to international sports federations regarding athletes from Russia and Belarus, who were banned from competition shortly after the start of the Russia-Ukraine conflict last February.
Olympic officials proposed that Russians and Belarusians be allowed to take part in tournaments abroad under a neutral flag, provided they have no links to the armed forces and have not expressed support for Moscow's military operation. The guidelines apply only to individual athletes, while teams and clubs continue to be barred from competition.
Last week, the head of the International Gymnastics Federation (FIG), Morinari Watanabe, supported the idea of Russian and Belarusian athletes making a comeback on the international stage.
"I understand and support Ukraine's position on the political side. But sport is independent of politics. Sport must seek peace even when governments and soldiers are at war," he insisted.
Earlier this month, United World Wrestling (UWW) held an extraordinary meeting, unanimously voting in favor of allowing Russians and Belarusians to return to competition under the terms laid out by the IOC.
However, Moscow remains dissatisfied with the recommendations, calling them "unreasonable, legally void and excessive." Russian Olympic Committee (ROC) President Stanislav Pozdnyakov has said that the requirement to compete under a neutral flag amounted to "human rights abuse" and a breach of Olympic principles and the UN charter.
You can share this story on social media: