IOC unveils 'recommendations' for Russian and Belarusian athletes
Moscow has already condemned the guidelines as discriminatory and "absolutely unacceptable"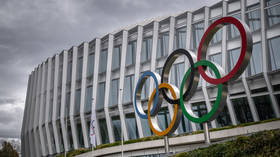 The International Olympic Committee (IOC) has stood by its plans to force Russian and Belarusian athletes to compete as neutrals, unveiling a set of "recommendations" for them on Tuesday.
The IOC sanctioned Russia and Belarus shortly after the beginning of the conflict between Moscow and Kiev in February 2022, but is now planning for athletes from the two countries to return to competitions as neutrals. International events in sports where Russian and Belarusian athletes can still compete, such as tennis, show that this approach "works," IOC president Thomas Bach argued.
"The participation of athletes with Russian and Belarusian passports in international competitions works," Bach said in an address before the IOC's executive board meeting in Lausanne. "There have been no security incidents happening in any of these competitions," he added.
The "recommendations" provided by the IOC for International Federations (IFs) urge them to allow "athletes with a Russian or a Belarusian passport" to compete under a neutral flag. At the same time, the IOC said teams composed of such athletes "cannot be considered," while individual athletes contracted to the Russian and Belarusian militaries, as well as to any of their security agencies, will also remain banned.
The committee highlighted "athletes who actively support the war," stating that they should not be allowed to compete either.
The IOC recommended that IFs set up special commissions to analyze the background of athletes. They would examine any public remarks by sportsmen and women on the conflict between Russia and Ukraine, as well as participation in any events deemed to be in support of the military operation, or if they have displayed symbols associated with it.
The "recommendations" have already been criticized as "discriminatory" by the Russian Olympic Committee (ROC). Its president, Stanislav Pozdnyakov, said the guidelines amount to "human rights abuse" and are clearly in breach of the IOC's own principles and the UN charter.
"The announced recommendations are absolutely unacceptable. Neutral status is a violation of human rights, which was pointed out by a UN representative. We consider the proposed conditions unreasonable, legally void and excessive," Pozdnyakov told reporters.
The official also condemned the ban on team competitions, stating that it affects roughly a third of Russian athletes. "As for the ban on participation of Russians in team competitions, here, in our opinion, this is not just discrimination based on a passport, but also in the disciplines they represent," Pozdnyakov said.
You can share this story on social media: