Ukrainian corruption hindering grain deal – Moscow
A freeze in inspections occurred because officials wanted to protect their "illicit income," the Russian Foreign Ministry claims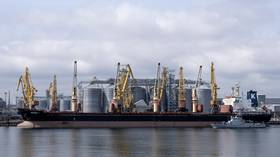 Inspection of ships under the Black Sea grain deal was disrupted this week due to Ukrainian corruption, the Russian Foreign Ministry has alleged, responding to UN comments on the situation.
Ukrainian officials are profiting from the leverage they have with the agreement, in which vessels are allowed to pass inspections under the UN- and Türkiye-mediated deal, the ministry said in a statement on Thursday. Moscow's attempts to curb the graft and Kiev's resistance resulted in no inspections being carried out on Tuesday, it added.
The Black Sea Grain Initiative is meant to facilitate the export of Ukrainian food by sea. Ships sailing under the arrangement are screened by a joint team from Russia, Ukraine, Türkiye, and the UN.
On Tuesday, for the first time, no inspections were conducted, as the parties "needed more time to reach an agreement on operational priorities," according to a statement by Stephane Dujarric, the spokesman for UN Secretary General Antonio Guterres.
A Reuters source claimed that Moscow sought to randomize lists of inbound vessels chosen for inspection, while Ukraine previously submitted lists of its choosing "based on the needs of its ports, storage and capacity."
According to the Russian statement, Ukrainian port officials "started taking bribes from shipowners" to allow them skip ahead, which was reported in the Ukrainian media.
Moscow proposed allowing ships "bound for African nations" that badly need the food supplies to go through, but was met with "active resistance of the Ukrainians, who didn't want to lose their source of extra illicit income."
Moscow reiterated its complaints that the UN-Russian agreement, which is linked to the grain deal, has not been implemented after nine months of promises. Meeting Russia's key demands is required for the scheduled renewal of the initiative next month, it noted.
Guterres was a major force behind the Black Sea Initiative, touting it as a way to alleviate the surge in food prices for the most vulnerable nations. Moscow criticized the implementation, arguing that European nations and Ukraine were benefiting from it far more, while Russian agriculture products were bartered from the global market.
Dujarric confirmed the UN's commitment to the agreement, which is meant to remove obstacles to Russia's export of food and fertilizers that were created by Western economic sanctions. However, the secretary general has no authority over the SWIFT banking system, the nations that have imposed the sanctions, or firms that provide insurance and shipping services, he said. "We have not stopped, but we don't have the authority to do the things that those who have the authority need to do to make sure it's implemented."
You can share this story on social media: