Global food prices likely to soar higher – WTO
Costs shot up by nearly 20% last year, according to the organization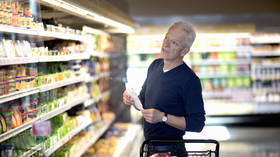 Food prices surged 18% globally last year, including a 21% rise in the cost of grain, the World Trade Organization (WTO) estimated in its Global Trade Outlook published on Wednesday.
According to the organization, fertilizer prices saw an even larger increase of 63% year-on-year. The WTO noted that, in theory, higher food costs "should encourage more agricultural production, resulting in greater availability and lower prices for food in the future," but warned that move expensive fertilizers could lead to reduced crop yields and, ultimately, new price spikes.
The organization also noted that food prices fluctuated strongly in 2022, first jumping 19% between January and May, following the start of Russia's military operation in Ukraine, and then dropping 15% between May and December.
Overall, while "global food supplies are less precarious than many had feared" in connection with the Ukraine crisis, they "remain a cause for concern," WTO warned. According to its calculations, the volume of world wheat trade, for instance, fell by roughly 7.5% since 2021, which leaves "little margin for error if a major producer suffers a crop failure or climate-related natural disaster."
WTO Director-General Ngozi Okonjo-Iweala on Wednesday called on developed economies to be vigilant to signs of the food crisis triggering hunger in poorer nations. She reiterated her earlier calls for lifting export restrictions on food and fertilizers, noting that as of April 2023, some 67 countries have such curbs. She also warned that global trade is likely to "remain under pressure from external factors in 2023." According to her, these include the crisis in Ukraine and other geopolitical tensions, inflation, and the impact of tightening monetary policy.

"This makes it even more important for governments to avoid trade fragmentation and refrain from introducing obstacles to trade. Investing in multilateral cooperation on trade... would bolster economic growth and people's living standards over the long term," she concluded.
For more stories on economy & finance visit RT's business section
You can share this story on social media: