Prospects for grain deal 'not good' – Kremlin
Only half of the agreement is being implemented right now, Dmitry Peskov has said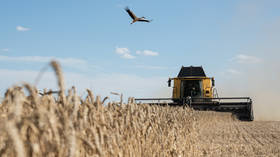 The future of the internationally-brokered deal to resume grain shipments from Ukraine looks bleak because not all parties have kept their side of the bargain, Kremlin spokesman Dmitry Peskov said on Wednesday.
The Black Sea Grain Initiative was made in July with the aim of allowing grain ships to leave Ukraine's Black Sea ports after they became stuck there due to the Ukraine conflict. The accord was also meant to "facilitate unrestricted access" to grain and fertilizer exports from Russia.
Moscow has since insisted that while the export of wheat, corn and other agricultural products from Ukraine continues, Russian companies are still struggling with hurdles put in place by sanctions.
"We know UN representatives are making some efforts [to maintain the agreement], but the second half of the deal is still not working, and its conditions are not being implemented," Peskov said. "No deal can stand on one leg – it needs two legs to stand on. In this sense, judging by how things are today, the prospects are not so good."
US and EU sanctions do not contain an outright ban on Russia's fertilizer exports to third countries. However, they created problems in terms of logistics, payments for transactions, and shipping insurance.
Russian President Vladimir Putin has also previously claimed that only a small fraction of Ukrainian grain was being delivered to the world's poorer countries. According to the UN, only 28% of the cargo went to low and lower-middle income states as of September, while the rest went to upper-middle and high-income states. The organization said, however, that the listed destinations may not all have been final.
In March, Russia agreed to extend the agreement for 60 days. UN Secretary-General Antonio Guterres said at the time that the organization would "do everything possible to preserve the integrity" of the deal and make sure that it continued to function.
You can share this story on social media: