Kiev slams Wimbledon for 'handing Putin a win'
Letting Russian and Belarusian tennis stars compete will signal that Western resolve is crumbling, Ukraine's foreign minister has claimed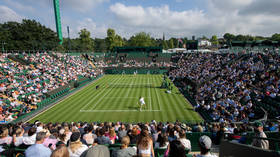 Ukrainian Foreign Minister Dmitry Kuleba has voiced outrage at the decision to allow Russian and Belarusian tennis stars to return to Wimbledon this year, saying that Kiev feels "deceived" by the move.
In an op-ed released on Tuesday in UK tabloid the Daily Express, Kuleba accused British tennis officials of "lacking courage."
"Last year, Wimbledon took the difficult but noble decision to bar competitors from Russia and Belarus. "[The] organizers deserve credit for doing the right thing. What has changed since? Not much," argued the minister.
Kuleba claimed that Russia "will be encouraged" by the move to lift the ban, and that it gives the impression that Western resolve is "crumbling" in the conflict with Moscow. Meanwhile, Ukraine "will feel deceived," according to the official.
"Any sign of easing the West's stance will be interpreted as [Russian President Vladimir] Putin's victory. We should not hand Putin wins," Kuleba insisted. He urged the UK government to "shut the door" to Russian and Belarusian players "in a gentlemanly fashion" by refusing to issue visas.
Kuleba's outrage comes after Wimbledon organizer the All England Lawn Tennis Club (AELTC) announced last month that it was ending its suspension for Russian and Belarusian players, on condition that they compete as 'neutrals', do not express support for Russia's military campaign in Ukraine, and do not receive funds from state-controlled entities in their respective homelands.
The organization said the decision had been "developed through constructive dialogue" with the UK government, the Lawn Tennis Association (LTA) – which is British tennis' governing body – and international bodies involved in the sport.
The AELTC initially banned Russian and Belarusian players from events on British soil in April 2022 over the Ukraine conflict, in a bid to deprive Moscow and Minsk of supposed "propaganda" benefits.
This year, Wimbledon will take place between July 3 and 16, with leading Russian trio Daniil Medvedev, Andrey Rublev, and Daria Kasatkina, as well as Belarus' Aryna Sabalenka, widely expected to take part.
You can share this story on social media: