Ukrainian counteroffensive could be postponed – PM
Denis Shmigal told The Hill that Kiev may not launch the push until the summer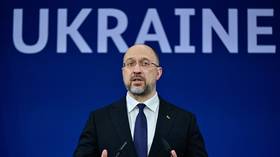 The much-touted Ukrainian counteroffensive may not get underway until this summer, the country's prime minister has told The Hill. Denis Shmigal also called on Kiev's Western backers to provide it with more weapons, including fighter jets, to ensure that Ukraine prevails on the battlefield.
In an interview published by the US outlet on Tuesday, Shmigal claimed that Ukraine does not "feel the pressure from our friends and partners vis-a-vis the start of the offensive." Instead, he argued it is the Ukrainian public that is demanding decisive action soon.
The senior official noted that there is consensus among Kiev's backers that it needs to be "100%, and even more percent prepared" before launching its push.
"To be prepared for [a] counteroffensive, we need more artillery, ammunition. We need more middle, or average and long-range missiles, we need tanks and we will need fighter jets," Shmigal asserted.
While expressing gratitude for the defense aid already provided by the US, the premier did criticize Washington for its reluctance to consider Ukraine's accession to NATO in the foreseeable future.
The Washington Post reported on Tuesday, citing alleged leaked Pentagon documents, that US intelligence had been skeptical in February as to whether Ukraine would be able to make significant territorial gains with a counteroffensive.
According to a supposedly classified document, Kiev faced significant "force generation and sustainment shortfalls." A separate part of the leaked trove suggested that five out of the 12 "combat credible" new brigades expected to spearhead the counteroffensive had yet to start training at that point.
Half of those fresh brigades badly lacked the necessary equipment as of late February, the paper claimed, citing supposed analysis by the US military.
The Pentagon is also said to have raised the alarm over the depletion of Kiev's air defenses – another factor that could prevent the anticipated counteroffensive from being a success, the Post reported.
While some of the documents from the trove appear to have been doctored, US defense officials have acknowledged that at least some of the information could be "sensitive and highly-classified material."
An investigation has been launched to establish the source of the leak.
You can share this story on social media: