Zelensky losing control of intelligence agents – media
The US believes that the Ukrainian intelligence service attacked a Russian plane in Belarus without Kiev's permission, Breaking Points reported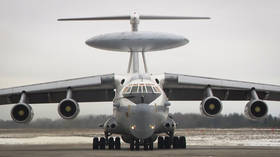 The US believes that elements of Ukraine's intelligence service carried out a cross-border attack on a Russian spy plane in Belarus without approval from the Ukrainian government, Breaking Points journalist Saagar Enjeti reported on Monday, citing leaked documents.
The attack saw a drone inflict minor damage to a Russian A-50 early warning and control aircraft stationed at the Machulishchy air base in Belarus last month. Belarusian authorities arrested a number of suspects, one allegedly linked to the Ukrainian secret police organization, the SBU, which Belarusian President Alexander Lukashenko accused of orchestrating the attack with help from the CIA.
The Ukrainian Foreign Ministry "categorically" denied any involvement by Kiev, while Ukrainian presidential adviser Mikhail Podoliak blamed the attack solely on "local partisans."
The Pentagon, however, assessed that the SBU carried out the attack without seeking the approval of President Vladimir Zelensky or his officials, Enjeti said in a video report on Tuesday. The alleged Pentagon documents containing the assessment were leaked on social media last week, and have since received considerable media attention.
The report on the plane attack raises the question of "how much control does Zelensky actually have" over his own intelligence apparatus, Enjeti said. "Perhaps this lends credence to the idea that there are a bunch of rogue elements inside the [Ukrainian] government that are basically doing whatever they want," he continued, citing a string of terrorist attacks within Russia as potential SBU operations.
The Kremlin has repeatedly blamed Ukraine and its intelligence services for these attacks, which include the bombing of the Crimean Bridge and the assassinations of journalist Daria Dugina and military blogger Vladlen Tatarsky.
"Whenever Ukraine does something, who is doing it?" Enjeti asked. "Zelensky presents himself as the leader … but obviously there are elements of the government there that don't listen to him. Who knows what they're going to drag us into."
The US Department of Defense has not confirmed the authenticity of the leaked documents, although a department spokesman told reporters on Monday that the files posted on social media were "similar in format" to those used in Pentagon briefings and intelligence updates. The leak presents "a very serious risk" to Washington, he added.
Other files in the leak detail the US' war plans in Ukraine, its surveillance of its allies, Kiev's rapidly depleting ammunition situation, and other "sensitive" material related to Ukraine, China, the Middle East, and terrorism.
You can share this story on social media: