No 'magic date' for counteroffensive – Ukraine
Aleksey Danilov says Ukraine's armed forces are not waiting for any particular date and are working "every day"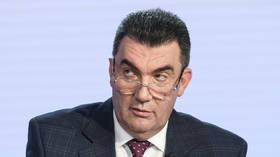 The secretary of Ukraine's National Security and Defense Council, Aleksey Danilov, has warned not to expect any "magic date" for a much-talked-about military counteroffensive. He also called for an end to speculation about the timing.
Writing on Twitter, the security chief stated that "the Ukrainian counteroffensive takes place every day" and that Kiev's forces were acting "calmly, systematically and consistently." He also said that any "information hype" pertaining to the potential date of a large-scale ground operation by Ukraine is "not in favor of the plans of Ukraine's Defense Force."
However, last week, Danilov pointed out that details of the future operation are known to no more than four or five people, and suggested that Ukrainian officials were intentionally making false statements about its timetable in order to confuse the Russian army and the Kremlin.
Speculation and rumors about an upcoming counteroffensive have been circulating for months, fueled by statements from various Ukrainian and Western officials. Last month, Ukrainian Defense Minister Aleksey Reznikov suggested that it could begin either in April or May. Those estimates were echoed last week by US Secretary of State Antony Blinken, who claimed that the operation could begin in the next few weeks.
It is assumed that that Kiev intends to conduct a large-scale ground attack in order to take back land it claims as its own. Those territories include the Crimean peninsula, the Donetsk and Lugansk People's Republics, and the regions of Zaporozhye and Kherson. All of which officially became part of the Russian Federation after overwhelmingly voting for the move in public referendums last year.
Meanwhile, an apparent leak of classified documents purporting to detail Washington's war planning in Ukraine has reportedly forced Kiev to revise some of its plans for the operation, according to anonymous sources who spoke to CNN over the weekend. The release has also reportedly ruffled feathers in the Pentagon, which is said to have launched a probe to discover the source.
For its part, Moscow has said that it continues to monitor all relevant information pertaining to the conflict in Ukraine, and former Russian President Dmitry Medvedev has suggested that the supposed counteroffensive is merely "propaganda." He warned, however, that in the event of a military assault on Crimea in particular, Russia would respond using "all means of protection," including nuclear weapons.
You can share this story on social media: