Ukraine changing military plans after Pentagon leak – CNN
The reported move comes despite Kiev officially dismissing the documents as fake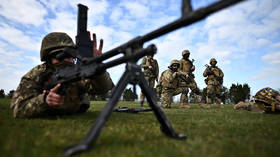 A major leak of classified documents detailing Washington's war planning in Ukraine has forced Kiev to step up precautions and change its military posture, CNN reported on Sunday, citing anonymous sources.
According to a source close to Ukrainian President Vladimir Zelensky, Kiev "has already altered some of its military plans" due to the trove of alleged Pentagon files leaked online. The outlet, however, did not clarify what plans have been altered and how drastic these changes are.
CNN has reviewed 53 documents in the trove, which appear to have been compiled between mid-February and early March. However, their authenticity has not been officially confirmed.
The leaks shed light on US spying efforts on Washington's key allies, including Ukraine and Zelensky personally, the report claims. A CNN source described the revelation as "unsurprising," but noted that it still frustrated Ukrainian officials.
One US intelligence report also claims that in late February, Zelensky "suggested striking Russian deployment locations in Russia's Rostov Oblast" with drones due to the lack of other types of long-range weapons, the report says.
Last week, Mikhail Podoliak, a senior aide to Zelensky, attempted to downplay the leak, dismissing the documents as "photoshop and virtual fake leaks." He added that Moscow "is eager to disrupt the Ukrainian counteroffensive," which is widely expected to begin within several weeks, but "will see the real plans on the ground" soon.
The batch of sensitive documents on Ukraine appeared online in late February and early March on the chat platform Discord, but the first reports on the leaks did not emerge until last week. The files provide an assessment of Russian and Ukrainian battle readiness and casualties, timetables for training and equipment deliveries, as well as weaknesses in the weapons used by Kiev.
On Friday, the New York Times reported about the leak of another trove of sensitive US documents, which this time focused not only on Ukraine, but also China, the Middle East, and terrorism.
On Sunday, the US Department of Defense said that several government agencies are working to evaluate national security repercussions from the leak. Deputy Pentagon Press Secretary Sabrina Singh noted that the department "continues to review and assess the validity of the photographed documents that are circulating on social media and that appear to contain sensitive and highly classified material."
You can share this story on social media: