Ukraine used NATO ammunition to kill Donetsk civilians – Russia
HIMARS and 155mm guns were reportedly used in the attack that killed nine and injured seven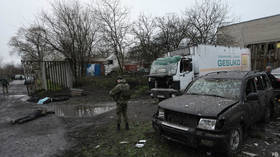 Over a dozen civilians have been killed by a series of artillery attacks on residential areas in Donbass on Thursday, local media outlets have reported. Kiev's forces used NATO-supplied howitzers and rocket launchers in two attacks on Donetsk city, Russia's investigative committee has stated.
A strike on a parking lot in the Kalininsky district of Donetsk killed nine civilians and injured seven, according to the authorities. After processing the crime scene, one Russian investigator said the carnage was caused by a volley from a multiple rocket launch system, "most likely HIMARS."
The US has supplied three dozen HIMARS launchers to Ukraine over the past year, together with long-range ammunition. Another six rounds from 155mm howitzers, also supplied to Ukraine by the West, struck the Petrovsky district on Thursday afternoon. There were no reports of casualties.
Part of Donetsk city also lost power following the rocket and howitzer attack.
Meanwhile, another artillery strike has targeted a bus station in Lisichansk. Three civilians were killed, one was wounded, and a passenger bus was damaged, local authorities said. Lisichansk is in the Lugansk People's Republic, with the nearest Ukrainian position about 20 kilometers away.
Ukraine has repeatedly pleaded with the US and its allies to send more artillery ammunition, citing shortages that hampered its efforts to hold onto key strategic points such as Artyomovsk or Avdeevka, or launch the much-anticipated "spring offensive" against Russian forces.
Ammunition for both HIMARS and howitzers was listed in the Pentagon's most recent package of "security assistance" for Kiev, of which $500 million would come from the US military's existing stocks and another $2.1 billion purchased from the American military industry.
You can share this story on social media: