'Everything Russian' must be eradicated in Crimea – Zelensky aide
Mikhail Podoliak has claimed that Ukraine will retake the peninsula within seven months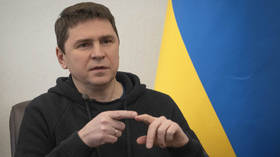 Russian culture will be off-limits in Crimea if Ukraine regains control of the peninsula, Mikhail Podoliak, a senior aide to Ukrainian President Vladimir Zelensky, has claimed. Podoliak added Kiev is planning on meting out legal punishments to Russian passport holders and other "traitors" living in the region.
"As soon as we enter, we must eradicate everything Russian in Crimea," Podoliak stated in an interview with US government-controlled RFE/RL published on Wednesday. He argued that the predominantly Russian-speaking region should instead become part of the "Ukrainian cultural space."
Acknowledging that his views are among the most radical within the leadership in Kiev, Podoliak insisted that Crimean residents would not be able to read Russian literature or watch Russian movies, let alone speak Russian in public. Instead, the language would only be permitted in private, the official added.
According to Podoliak, those who refused to comply would have to leave.
Locals would also face mass investigations and "legal punishments" for anyone who has switched from Ukrainian to Russian citizenship, as well as those deemed to be "collaborators and traitors" by the Ukrainian authorities.
Podoliak argued that the process, which he described as "very powerful stabilization measures," would be difficult.
"We're going to have to break it all down," he said with respect to Crimea's Russian identity.
The presidential aide expressed confidence that Ukrainian forces would retake the peninsula within seven months, claiming that his outlook is "mathematically verified" and that Russia lacked the necessary resources to retain the region.
However, Podoliak did not rule out negotiations between Kiev and Moscow on Crimea, provided that the Kremlin first withdrew its troops from territory Ukraine claims as its own.
Crimea has been part of Russia since 2014, when residents voted overwhelmingly to reunify with Moscow soon after the Maidan coup in Kiev. There were fears among the ethnically Russian majority of the peninsula that Ukrainian nationalists who had come to power in Kiev would try to forcefully impose their language and culture on them.
The peninsula was historically part of Russia since 1783, and was only transferred to Kiev's administrative control by the Soviet authorities in 1954.
You can share this story on social media: