Putin gives state award to Vladlen Tatarsky
The military blogger has posthumously received the Order of Courage for his work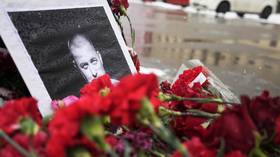 Russian President Vladimir Putin has posthumously awarded Vladlen Tatarsky, a prominent Russian war correspondent and blogger, the Order of Courage. Tatarsky was recognized "for the courage and bravery he displayed in line of his professional duty," a presidential order published on Monday said.
Tatarsky was killed in a bomb blast on Sunday during a meeting with followers in a café in the Russian city of St. Petersburg. The Kremlin denounced the incident as a "terrorist attack." Russia's Interior Ministry published a video featuring the main suspect in the case, Darya Trepova, who admitted bringing a bomb camouflaged as a statuette to the meeting.
Later, Trepova allegedly claimed that she had been recruited by a journalist linked to the Ukrainian security services, the Russian media reported. An exiled ex-Russian State Duma deputy, Ilya Ponomarev, who currently resides in Kiev, claimed on Monday that he knew the masterminds behind the attack while denying any links to Ukrainian intelligence.
Tatarsky gained prominence as a war correspondent and a blogger in Russia amid the ongoing conflict between Moscow and Kiev. A Donbass native, he joined the local militias in the wake of the Maidan coup in Kiev in 2014. Tatarsky (real name Maksim Fomin) left his service in 2019 before moving to Moscow and authoring several books about his life.
Following the start of the Russian military operation in February 2022, he returned to Donbass, where he reported on the developments on the ground on a daily basis.
In the wake of his murder, Russian Foreign Ministry's spokeswoman, Maria Zakharova, said that Russian journalists are facing a "witch hunt" in the West, as well as "death threats" from Kiev, which are silently ignored by international bodies and relevant professional associations.
You can share this story on social media: