Murder of Vladlen Tatarsky: What we know so far
The military blogger was killed in a blast caused by an improvised explosive device disguised as a commemorative figurine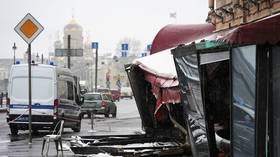 Popular Russian military blogger Vladlen Tatarsky was killed in an explosion on April 2 at a café in St. Petersburg. The blast also injured over 30 other people, according to official reports.
An explosive device went off in the 'Street Bar 1' café in the center of St. Petersburg on Sunday. The explosion was strong enough to blow out the windows of the café and cause its facade to collapse. It is estimated that the improvised explosive device (IED) was equivalent to around 200 grams of TNT and was packed with shrapnel, according to law enforcement officials.
Following the blast, one person – Vladlen Tatarsky – was pronounced dead at the scene, while 33 other people have been hospitalized with various injuries. Some are in critical condition, including a 14-year-old girl, according to the Russian Health Ministry.
The incident took place at the 'Street Bar 1' café at 25 Universitetskaya Embankment on Vasilyevsky Island in the center of St. Petersburg. The venue was hosting an event for Tatarsky and several dozen of his followers at the time of the explosion.
Russian billionaire and founder of the Wagner Private Military Company, Evgeny Prigozhin, has confirmed that he had business ties to 'Street Bar 1' and said he allowed a "patriotic" club to use the venue. He has compared Tatarsky's assassination to the murder of journalist Darya Dugina, who was killed when her car was blown up last August.
Vladlen Tatarsky, whose real name was Maksim Fomin, gained prominence in Russia as a military blogger and correspondent during the Ukraine conflict. A Donbass native, he joined the local militias in the wake of the Maidan coup in Kiev in 2014, and served until 2019.
Tatarsky regularly reported on the battlefield developments in Donbass and authored several books. At the time of his death, his Telegram channel had over 560,000 subscribers. Kiev imposed sanctions on him in January of this year.
The Russian Investigative Committee has opened a criminal case and are treating the incident as a murder. Investigators are at the scene of the incident and are working on leads. St. Petersburg prosecutor Viktor Melnik has told journalists that the investigation will be carried out as rapidly as possible.
Moscow, meanwhile, has branded the incident a "terrorist act" carried out by Kiev. Kremlin spokesman Dmitry Peskov claimed that "the regime in Kiev supports terrorist activities" and has been behind numerous murders since 2014.
Videos from the event have shown that not long before the blast, Tatarsky was handed a figurine that is believed to have contained the IED. Investigators have since identified the woman who handed the blogger the figurine as 26-year-old Darya Trepova.
After being placed on a wanted list, Trepova was detained in St. Petersburg on Monday. According to local news outlets, she was hiding out in an apartment that belonged to a friend of her husband, and had booked tickets for a flight to Uzbekistan.
In a video published by Russia's Interior Ministry, Trepova admitted to handing Tatarsky "the figurine that exploded," but refused to say how she had obtained the item and asked investigators if she could "tell them about it later."

Russia's National Anti-Terrorism Committee (NAC) has claimed that the "terrorist act" was planned by the Security Service of Ukraine (SBU) using agents collaborating with opposition figure Alexey Navalny's anti-corruption fund (FBK). It was stated that Trepova was a supporter of Navalny and his group.
According to Shot news, Trepova reportedly told investigators that she was recruited by a man named Roman Popkov – a journalist believed to have ties to the SBU. Trepova allegedly said that Popkov initially "taught her journalism" but then asked her to "do a task" for a "contact" of his.
Trepova reportedly claimed that she was instructed to strike up a friendship with Tatarsky in order to recruit him later on. Trepova admitted that she had brought the figurine containing the explosive device to St. Petersburg in her car several days ago, but has insisted that she did not know about the nature of the figurine and thought it was a listening device.
You can share this story on social media: