Kremlin calls killing of military blogger 'terrorist attack'
Russian authorities have claimed that Ukraine was behind the St. Petersburg café bombing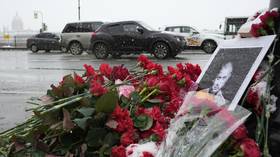 The explosion that killed Russian military blogger Vladlen Tatarsky in a St. Petersburg café was a terrorist attack, Kremlin spokesman Dmitry Peskov said on Monday. His statement came after Russian authorities accused Ukraine of orchestrating the blast.
"Of course, this constitutes an act of terrorism," Peskov claimed during a call with journalists. "The regime in Kiev supports terrorist activities… [and] has been behind the murders of many people since 2014," he added.
On Sunday, Tatarsky, whose real name was Maksim Fomin, was hosting a meeting with supporters when a bomb detonated at the venue, killing him and injuring more than 30 others.
Russia's National Anti-Terrorism Committee said on Monday that suspect Darya Trepova, who has been detained, was acting on behalf of Kiev. In a video released by police, Trepova, 26, admitted to "bringing the statuette that exploded" in the café and said she would "explain later" how she had received the figurine.
Moscow has repeatedly accused Ukraine of conducting terrorist attacks on Russian soil, including the bombing of the Crimean Bridge in 2022. Russian officials claimed that Ukrainian agents were behind last year's murder of journalist Darya Dugina, who died in a car bombing near Moscow. Ukraine denied any involvement in the incident.
You can share this story on social media: