Zelensky's government a 'force of evil' – priest
The crackdown on the Ukrainian Orthodox Church is a "catastrophic event," an Ethiopian cleric has said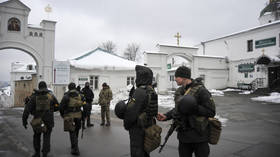 "Evildoers" who persecute Christians will derive no benefit from such action either on Earth or in the afterlife, Kesis Mezgebu, a prominent Ethiopian Orthodox priest, has told RT.
Mezgebu, who serves at the Holy Trinity Theological University in Addis Ababa, was commenting on the attempts by the government of Ukrainian President Vladimir Zelensky to evict the monks of the Ukrainian Orthodox Church (UOC) from the country's Kiev-Pechersk Lavra monastery.
On Saturday, Metropolitan Pavel, the abbot of the Lavra, was placed under house arrest on accusations of "inciting religious hatred" and "justifying" Russia's military operation in Ukraine. The abbot has vigorously denied those allegations.
What's happening in Ukraine is a "catastrophic event," perpetrated by an "evil force," Mezgebu said in an interview on Sunday. "This is atrocity…hatred… completely evil spirit," he added, describing the actions of the Kiev authorities.
Christians tend to help others and are always a stabilizing factor in a society, so those who persecute them, "will not get any advantage earthly or heavenly, either physically or mentally… They will be hurt. They will be condemned," he said.
According to Mezgebu, followers of the UOC in Ukraine "might be in danger soon" because they may be left with no other choice but to tell the "evildoers" to stop what they're doing. He urged believers to stay "peaceful [and] remain within the Church" to avoid escalation.
Ukraine has experienced religious tensions for years, with two entities claiming to be the country's true Orthodox Church. The Kiev government is supporting the Orthodox Church of Ukraine (OCU), which was created only in 2014 and which the Russian Orthodox Church considers schismatic. Zelensky has explained the moves against the UOC by the need to protect Ukraine's "spiritual independence" and deprive Russia of an opportunity to "to manipulate the spirituality of our people" amid the conflict between the two countries.
However, the Ethiopian priest suggested that "nationalist xenophobia" can only lead to suffering. "This will never take us anywhere. We have a lot of things to do together in harmony and collaboration, rather than destroying one another in the name of nationality or whatever kind of patriotic feeling. This is not how you reveal your patriotism," he explained.
Mezgebu also suggested that the West is aware of the religious persecution in Ukraine, but – despite having the ability to intervene – it remains silent on the issue because it shares a "similar agenda" with Kiev.
You can share this story on social media: