Ukraine tags senior Orthodox bishop with ankle monitor
The authorities have ordered the abbot of the Kiev Pechersk Lavra to stay away from the historic monastery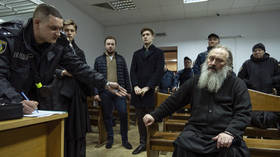 A senior cleric in Ukraine's most prominent Orthodox monastery, Metropolitan Pavel, has been placed under house arrest and barred from attending services for two months, amid an ongoing religious crackdown and attempts to evict hundreds of monks from the Kiev Pechersk Lavra.
At a pretrial detention hearing on Saturday, Metropolitan Pavel (secular name Pyotr Lebed), who is accused of harboring pro-Russian sentiment, was ordered to stay in a village 50km from the capital. The hearing was initially postponed after the 61-year-old cleric, who has served as abbot of the monastery since 1994, reported feeling unwell. However, he was brought to court again in the evening, and officially placed under house arrest for 60 days.
The authorities have placed a tracking device on his ankle, videos from the courtroom show. The judge denied Pavel's plea to remain confined inside the monastery, but also refused the prosecutor's request to ban him from sharing videos online.
The Security Service of Ukraine (SBU) accused Metropolitan Pavel of "inciting religious hatred" and "justifying" Russia's actions in Ukraine. The cleric has denied the allegations, insisting that he has always condemned Moscow's military operation and "stood in defense of my motherland."
Ukraine has long experienced religious tensions, with several entities claiming to be the true Orthodox Church. The two main rivals are the Ukrainian Orthodox Church (UOC) and the Kiev-backed Orthodox Church of Ukraine (OCU), which is considered by the Russian Orthodox Church to be schismatic.
Kiev officials have intensified their crackdown on the UOC, even though it proclaimed independence from Moscow after the start of the conflict in February 2022.
The Ukrainian Ministry of Culture denied the UOC a renewal of tenancy in the 908-year-old Kiev Pechersk Lavra (monastery of the caves), effectively "kicking out to the streets" the 220 monks living there, as Pavel described it. The eviction deadline came this week, but the authorities have yet to forcefully seize the monastery, amid ongoing rival protests outside.
In January 2023, the government evicted the UOC from the Dormition Cathedral and the Refectory Church adjacent to the Lavra, and immediately gave permission to the OCU to hold a Christmas service there.
Moscow has repeatedly condemned President Vladimir Zelensky's crackdown as persecution of Orthodox Christianity. Russian Foreign Ministry spokeswoman Maria Zakharova remarked on Saturday that April Fools' Day was held "with great fanfare in Kiev," sharing a video of a crowd of protesters dancing around a woman who was praying on her knees in the middle of the street.
"Orthodoxy is being abused, mocked, and sneered at before our eyes," she said. "The civilized remain silent. That's not the occasion for which they wrote their human rights declarations and reports on religious freedom."
You can share this story on social media: