Senior Ukrainian bishop claims he's under house arrest
Metropolitan Pavel, Abbot of the Kiev Pechersk Lavra, has been accused of harboring pro-Russian sympathies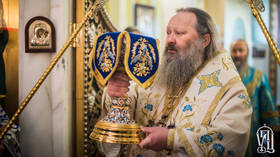 The leader of Ukraine's largest Orthodox Christian monastery has said he is under house arrest, marking the latest twist in Kiev's religious crackdown. Metropolitan Pavel (secular name Pyotr Lebed), a senior bishop in the Ukrainian Orthodox Church (UOC), is suspected of inciting religious tensions.
The cleric, who has served as abbot of the Kiev Pechersk Lavra since 1994, told reporters about his arrest on Saturday, in a video released by the Ukrainian news network Vesti.
Meanwhile the SBU, Ukraine's domestic security service, claimed in a statement that it "had collected well-founded evidence" that the bishop was "inciting inter-religious enmity" and "justifying Russia's aggression." The two potential charges carry prison sentences of up to eight years and three years, respectively.
On Saturday, local media reported that during a hearing in a Kiev court, Pavel said he was feeling unwell, leading to the judge postponing the session to Monday.
The SBU said Pavel "insulted the religious feelings of Ukrainians" and "tried to create hostile attitudes" towards members of other religious denominations. The cleric's house was also raided by SBU operatives, with the bishop summoned for questioning, according to the UOC.
Metropolitan Pavel has denied the allegations, insisting that he has always condemned Moscow's military operation and "stood in defense of my motherland."
The Russian Orthodox Church has denounced the SBU's crackdown on the bishop. Vladimir Legoida, who heads the Church's public relations department, claimed that the house arrest was made "on trumped-up charges" and is "a natural continuation of the justice violations" committed by the Ukrainian authorities.
The Kiev Pechersk Lavra, which is administered by the UOC, is 980 years old and has been the target of a relentless campaign by Ukrainian authorities in recent months. Kiev officials suspect the UOC of covertly supporting the Russian government despite it having proclaimed independence from Moscow after the start of the conflict in February 2022.
The crackdown culminated last month when Ukraine's Ministry of Culture claimed, without providing any proof, that the UOC violated the 2013 agreement which allowed it to administer the monastery, with the monks ordered to vacate the premises. However, the UOC refused to comply, describing the order as "unlawful."
Ukraine's push to evict the monks has sparked tensions between supporters and opponents of the UOC. On Saturday, local media shared footage of a brief clash between the two groups near the site.
Ukraine has long experienced religious tensions, with a number of entities claiming to be the true Ukrainian Orthodox Church. The two main rival factions are the Ukrainian Orthodox Church and the Kiev-backed Orthodox Church of Ukraine (OCU), which is considered by the Russian Orthodox Church to be schismatic.
You can share this story on social media: