Ukraine moves to seize historic monastery
The government wants to evict the Ukrainian Orthodox Church from the Pechersk Lavra in Kiev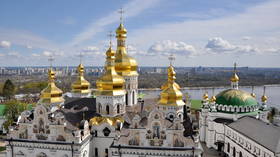 The Ukrainian Orthodox Church (UOC) was informed on Friday that its monks and clergy had until March 29 to vacate the Kiev Pechersk Lavra, after a government commission decided they were violating the terms of their lease from the state. The church has refused, saying there are no legal grounds for the eviction.
Founded in 1051, the Pechersk Lavra ('monastery of the caves') is considered the most prominent Orthodox Christian site in Ukraine. Legally it is the property of the state, as a national historic preserve, and administered by the UOC under a 2013 agreement with the government.
According to a memo from the Ministry of Culture, published by multiple Ukrainian outlets, a commission established by President Vladimir Zelensky's decree in December had determined that the UOC is in violation of the deal, and therefore must turn the monastery over by the end of March.
The UOC does not intend to leave, however. Its head, Metropolitan Kliment, told the outlet Liga that the document "does not mean anything" and amounts to "opinions of the director of the preserve, not supported by legal arguments."
"How can we leave?" said the metropolitan. "We are responsible for this heritage that we have guarded for decades. And now we must leave it to its destroyers?"
Although it has declared independence and condemned Russia – as required by Zelensky's edicts – the UOC remains in canonical communion with the Moscow Patriarchate of the Russian Orthodox Church. The current Ukrainian government has repeatedly accused its clergy of being "Russian sympathizers" and in December moved to re-evaluate the status of the Lavra.
Kiev is currently favoring the "Orthodox Church of Ukraine" (OCU) – a non-canonical organization established by the government of President Pyotr Poroshenko after the US-backed coup in 2014. In January 2023, the government evicted the UOC from the Dormition Cathedral and the Refectory Church, adjacent to the Lavra, and immediately gave permission to the OCU to hold a Christmas service there.
Zelensky has also sanctioned more than a dozen UOC clerics and even stripped several of Ukrainian citizenship. The move to freeze their assets was mostly symbolic, as the Orthodox hierarchy consists mainly of monks.
Moscow has repeatedly condemned Zelensky's crackdown as persecution of Orthodox Christianity. Reacting to the announced eviction of the Lavra, Russian Foreign Ministry spokeswoman Maria Zakharova wondered on Friday whether the US would get involved.
"Has the State Department heard about this?" she said. "This time they won't manage to 'not see' the persecution of the Ukrainian Orthodox Church."
The State Department's "religious freedom" office has not commented on Kiev's repression of the UOC. Its report on Ukraine in 2021 noted that US embassy officials had met with the OCU leadership, and reserved most of the criticism for Kiev's treatment of Jehovah's Witnesses.
You can share this story on social media: