Zelensky sanctions top clerics
The president targeted several bishops of the Ukrainian Orthodox Church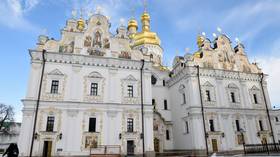 President Vladimir Zelensky has ordered personal sanctions on senior figures in the Ukrainian Orthodox Church (UOC). The Kiev government launched a crackdown on the denomination last year, claiming that it harbored Russian agents.
The order published by the Ukrainian president's office on Wednesday enacts a motion issued by the National Security and Defense Council to seize assets and to impose other restrictions on ten individuals.
The list includes Metropolitan (Bishop) Pavel of Vyshgorod and Chernobyl, the senior cleric in Ukraine's most prominent Orthodox monastery, the Kiev Pechersk Lavra, and retired Metropolitan Yelisei of Izium and Kupiansk. It also targets several priests of the Russian Orthodox Church whose parishes are located in Crimea, as well as Ukrainian businessman Vadim Novinsky, who holds the office of a deacon in the UOC.
The security council has also been slapping sanctions in a similar way on individuals who allegedly pose a threat to Ukraine. Critics of Zelensky say he is using the body, which he controls, to persecute political opponents.
The UOC, which has historic ties with the Russian Orthodox Church, has been targeted by a crackdown since November. Then the domestic security agency SBU started raiding monasteries and other church property, reportedly looking for evidence of collusion with Russia. Churches may be hiding saboteurs, stockpiling weapons or be otherwise involved in treason, the agency alleged.
This month media in Ukraine revealed that Zelensky had stripped 13 UOC priests of their Ukrainian citizenship after imposing personal sanctions on them. Reports said the presidential order depriving them of their status was issued secretly in late December. The list, published by news outlets, included some bishops previously raided by the SBU.
Ukraine has experienced religious turmoil for decades, with some priests breaking away from the UOC to form schismatic organizations. One of the most prominent splits took place in 2018 and was widely perceived in the country as an attempt by then-President Pyotr Poroshenko's to boost his re-election chances.
The Orthodox Church of Ukraine (OCU), which was established as a result, has been pushing the Ukrainian government for aid in taking over the UOC's parishes and property.
You can share this story on social media: