Zelensky admits fear of political shift in US – AP
Potential GOP presidential candidates have cast doubts on support for Kiev, the Ukrainian president has admitted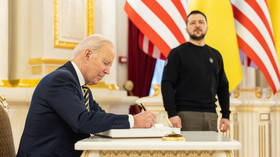 Ukrainian president Vladimir Zelensky "worries" that support in Washington for his country will dwindle after next year's US presidential election, Associated Press (AP) reported on Wednesday.
"The United States really understands that if they stop helping us, we will not win," the Ukrainian leader told the news agency this week, during what it described as a "morale-building journey" by train across the country.
US President Joe Biden has been criticized by some Republican politicians for what they described as writing a "blank check" for Kiev. Last year, his administration secured $112 billion in Ukraine-related funding from Congress. It included paying for weapons being sent to Ukraine by the Pentagon and for propping up the country's budget so that the government in Kiev remained operational.
Earlier this month, Fox News host Tucker Carlson sent a questionnaire to potential and declared candidates for the GOP presidential nomination in the 2024 election, urging them to put their positions on the Ukraine conflict and confrontation with Russia on the record. Former President Donald Trump said that, were he to be elected again, Kiev should expect that "there will be little more money coming from us."
Florida Governor Ron DeSantis described the conflict as a "territorial dispute" that was not a "vital strategic interest" for the US. After criticism by some hawks in the Republican Party, he later clarified that he recognized Ukraine's sovereignty over its former parts that have transitioned to become Russian territory, including Crimea.
Zelensky was careful not to name either US politician during his interview, even as he shared concerns over a possible political shift in Washington, AP said.
He also explained his reasons for not withdrawing troops from the city of Artyomovsk, which Kiev calls Bakhmut. He claimed losing it would put his government under pressure internationally and domestically to seek compromise with Russia.
You can share this story on social media: