DeSantis clarifies stance on Ukraine
The Florida governor had previously called the conflict a territorial dispute between Moscow and Kiev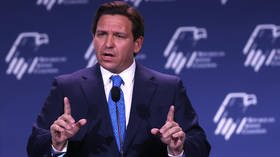 Florida governor Ron DeSantis has claimed his comment about the Ukraine conflict simply being a "territorial dispute" was "mischaracterized." In an interview with TV host Piers Morgan, the full version of which will air on Friday, the potential Republican presidential candidate insisted that Russia was "wrong" to "take over Crimea" and attack Ukraine.
Earlier this month, DeSantis told Fox News anchor Tucker Carlson that "becoming further entangled in a territorial dispute between Ukraine and Russia" is not one of the many "vital national interests" of the US. The governor also argued that the US should not provide assistance to Ukraine in the form of F-16 fighter jets, long range missiles or American troop deployment and criticized the Biden administration's "virtual 'blank check' funding" for Kiev without any objectives or oversight.
DeSantis's comments sparked a backlash, including from fellow Republicans such as Senators Lindsey Graham and Marco Rubio, who accused the Florida governor of misunderstanding the situation and downplaying the issue.
Speaking to Morgan, however, DeSantis explained that his comments had been misconstrued and that he was specifically talking about Donbass and Crimea.
"There's a lot of ethnic Russians there," he said. "So that's some difficult fighting and that's what I was referring to."
He also stated that he does not believe that Russia has the ability to take over Ukraine, topple its government or threaten NATO, which is why he doesn't see the conflict as significant enough for the US to escalate its involvement.
Pressed by Morgan on his "territorial dispute" remark, DeSantis reiterated that he believed Ukraine had "the rights to that territory." "If I could snap my fingers, I'd give it back to Ukraine 100%," the governor said. He insisted, however, that America's involvement in the issue, in terms of escalating with more weapons and troop deployments, "would be a mistake."
While it is widely expected that DeSantis will contend for the US presidency in the 2024 elections, the governor has yet to officially announce his intentions. Surveys have shown him to be the main alternative to former US president Donald Trump, as the two have gone neck to neck in recent matchup polls. The latest March Yahoo/YouGov survey found that DeSantis is currently trailing Trump 39% to 47%, after being in the lead in February at 45% to 41%.
You can share this story on social media: