Defending Ukraine not a vital US interest – DeSantis
The Florida governor has contradicted top Republican leaders in his stance on the ongoing conflict between Moscow and Kiev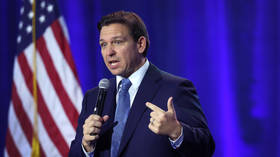 Becoming increasingly involved in the military confrontation between Ukraine and Russia is not a priority for the US, Florida's Republican governor Ron Desantis wrote in response to a question posed by Fox News host Tucker Carlson on Monday.
Carlson asked several "2024 GOP hopefuls" whether opposing Russia in Ukraine was a "vital strategic interest" for the US and shared DeSantis' response on Twitter. The governor stated that the US had many "vital national interests," such as securing its borders, addressing the recruitment crisis within the US military, achieving energy security and independence, and "checking the economic, cultural, and military power of the Chinese Communist Party."
However, becoming "further entangled in a territorial dispute between Ukraine and Russia is not one of them," DeSantis noted.
He added that the Biden administration's policy of issuing virtual "blank checks" to Ukraine in order to fund the conflict for "as long as it takes," without any defined objectives or accountability, only serves to distract from the most pressing challenges currently facing the US.
The governor also blasted Washington for effectively driving Russia closer to China, which he believes represents a much greater threat than Moscow.
DeSantis, who many expect to contend for the US presidency in the 2024 elections, has set himself apart from other top Republican leaders with his stance on Ukraine.
Responding to the same question, former vice president Mike Pence insisted that "there is no room for Putin apologists in the Republican Party" and that Putin must be stopped to prevent Russia from moving toward Washington's NATO allies. Senate Minority leader Mitch McConnell has also pledged the Republican party's commitment to the Ukrainian war effort.
In his response to Carlson's question, former president Donald Trump insisted that the conflict, which he believes would have never happened if he'd been in office, must end as soon as possible and that the US president must meet with both sides and quickly work out a deal.
He also stated that while opposing Russia in Ukraine is not a vital strategic interest for the US, it is important for Europe. "That is why Europe should be paying far more than we are, or equal," Trump said.
Asked if the US should support regime change in Russia, the former president stated that it should not, and instead called for regime change in the United States itself. "That's far more important," he wrote. "The Biden administration are the ones who got us into this mess."
You can share this story on social media: