Trump names country ripe for regime change
It's the US, not Russia, that needs new leadership amid the Ukraine crisis, the former president has declared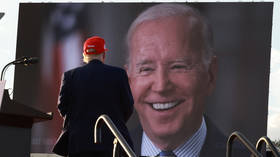 Former US President Donald Trump has said he doesn't want Washington to support regime change in Russia but would like to see one happen in his own country. He made the remark in his reply to a questionnaire on the Ukraine crisis that Fox News host Tucker Carlson had sent to declared and potential Republican candidates seeking the party's 2024 presidential nomination.
"We should support regime change in the United States, that's far more important. The Biden administration are the ones who got us into this mess," Trump responded to one of the questions.
In his response to Carlson, Trump largely reiterated his claims that if he were the president, the conflict in Ukraine would not have escalated into a shooting war and that he could end it in 24 hours if put back in office. He also vented anger at European nations, whom he accused of taking advantage of the US.
"They must pay at least equal to what the US is paying to help Ukraine. They must also pay us, retroactively, the difference," he demanded, arguing that defending Ukraine is a vital interest for the EU but not for the US.
We asked every potential 2024 GOP presidential candidate to answer six key questions on the war in Ukraine. As promised, their full responses are below. pic.twitter.com/tjcM4w54cR

— Tucker Carlson (@TuckerCarlson) March 14, 2023
With him in charge in Washington, Kiev should expect that "there will be little more money coming from us," provided that his talks with Russian President Vladimir Putin to stop hostilities succeed.
Carlson's Ukraine test asked potential Republican candidates about their views on the bankrolling of Ukraine, the effectiveness of anti-Russian sanctions, the risk of a nuclear escalation and the possibility of toppling the Russian government.
Most of those approached responded, with the exception of Trump's former UN envoy Nikki Haley and his former national security adviser John Bolton, he told viewers on Monday.
Former vice president Mike Pence appeared to be among the most hawkish on Russia, declaring that there was "no room for Putin apologists in the Republican Party," and downplaying the threat of a nuclear war as "bullying" by the Russian president. He accused the Biden administration of being "too slow" in aiding Ukraine, including in "providing military equipment and fighter jets."
Florida Governor Ron DeSantis warned that a Russia regime-change policy "would neither stop the death and destruction of the war" nor put a pro-American leader in the Kremlin. Instead it would "greatly increase the stakes of the conflict, making the use of nuclear weapons more likely." He said arming Ukraine with US-made fighter jets or long-range missiles should be taken "off the table."
You can share this story on social media: