Florida governor warns rivals there's a 'new sheriff in town'
Declaring victory over Disney, Ron DeSantis vowed to next take on the Democratic Party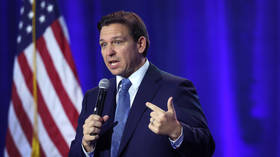 Florida Governor Ron DeSantis credited his policies for saving the state from "financial and moral collapse" in an interview with Fox News' Maria Bartiromo on Sunday, hinting that those same policies would work just as well to fix the entire United States.
"I think we have to recognize the left is trying to impose its agenda through all of our arteries in society, including corporate America," the Republican said, explaining that protecting Floridians meant ensuring that "the left is not able to impose their agenda on them through corporate America, through bureaucracy, through universities."
Specifically, DeSantis pointed to his accomplishment of reining in entertainment behemoth, Disney, which had operated Walt Disney World as a self-governing entity for six decades until legislation the governor signed last month put the 44-square-mile theme park under state governance once more. It was, he explained, his responsibility to set Disney straight when the company tried to torpedo his Parental Rights in Education Bill.
"The fight with Disney was really about who governs the state of Florida," DeSantis argued. "I think they thought for 60 years they called the shots. Well, there's a new sheriff in town, and we call the shots, and we made that very clear."
In his newly-published book, "The Courage to Be Free: Florida's Blueprint for America's Revival," DeSantis argues he shaped the "Florida miracle" by being "willing to lead" rather than relying on polling and public opinion - and could do the same nationwide.
"A leader's not a captive by polls, a leader leads and shapes public opinion," he told Bartiromo, insisting that, "When you lead and people know where you stand and you deliver results, they don't even have to agree with you all the time, they'll respect that and they know they can count on you."
DeSantis' approach has brought him a margin of victory increased from 30,000 in the 2018 election to 1.5 million last year - the largest for any Republican governor. Similarly, Florida's population has surged 1.9% between 2021 and 2022, the first time since 1957 that the state outstripped all others in population increase.
While DeSantis has not officially announced his 2024 run for the presidential nomination, his "book tour" made sure to stop twice in Iowa, home to the first presidential primary of the election season and thus one of the most important strategic pressure points of any campaign.
However, a poll conducted last month found DeSantis had fallen behind former president Donald Trump in a hypothetical two-man race for the Republican nomination, with Trump leading his one-time protege by eight points.
You can share this story on social media: