DeSantis visits California, targets 'woke mind virus'
The Florida governor traveled to the liberal stronghold ahead of a mooted presidential run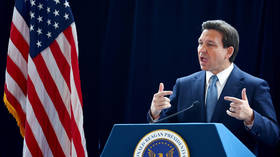 Ron DeSantis, the Republican rising star who is expected to be one of Donald Trump's chief rivals for the presidential nomination next year, hit out against liberalism deep in Democratic territory on Sunday.
DeSantis' brand of conservatism, which eschews vaccine mandates and takes a hardline stance on issues involving school curricula and immigration, has proven to be deeply popular in his home state of Florida.
DeSantis outlined his issues with what he called the "woke mind virus" in a California speech, one year out from 'Super Tuesday,' a pivotal date where both the main political parties take steps to select their presidential candidates, .
"I think these liberal states have gotten it wrong," DeSantis told a crowd of around 1,300 at the Ronald Reagan President Library in Simi Valley on Sunday, according to the Citizen Free Press. "And why are they getting it wrong? I think it all goes back to ideology. And it goes back to this woke mind virus that's infected the left and all these other institutions. I mean, think about the way they governed their states."
DeSantis won a resounding re-election to Florida's governorship over Democratic candidate Charlie Crist in November's midterm elections. The margin of his victory – particularly when compared to defeats suffered by Trump loyalists across the US – installed him as an early frontrunner for the Republican ticket in 2024.
The role, though, places him at direct odds with Trump, who has attempted to position himself as the Republican Party's kingmaker since leaving the White House in 2021. Trump confirmed in November he would once again be running for president, while DeSantis has yet to formally reveal his own candidacy.
Gavin Newsom, California Governor and often targeted by the GOP, reacted to DeSantis' visit by comparing the health records of their respective states.
"California residents are safer, healthier, and more prosperous than those unfortunate enough to have you as their governor," he said last week of DeSantis' trip. "By the way, you're going to get smoked by Trump."
In addition to DeSantis, former Vice President Mike Pence and former Secretary of State Mike Pompeo are expected to join Trump and ex-US ambassador to the United Nations, Nikki Haley, in the Republican presidential field.
You can share this story on social media: