Zelensky explains why he won't withdraw from key Donbass city
If Russia captures Artyomovsk, Ukrainians will demand that their government looks for a compromise with Moscow, the president claims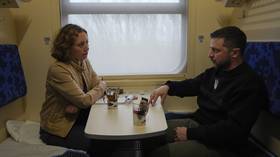 Ukrainian President Vladimir Zelensky has said that if his troops were to surrender the city of Artyomovsk, known as Bakhmut in Ukraine, his government would come under domestic and international pressure to seek peace with Russia.
"Our society will feel tired," he told the Associated Press (AP) in an interview released on Wednesday. "Our society will push me to have compromise with them."
Western officials have described Artyomovsk, the scene of fierce fighting for several months, as lacking in military importance. Behind closed doors, they – along with Zelensky's own military leadership – have reportedly urged the president to order a withdrawal, so that his forces can focus on preparing a counteroffensive with heavy weapons provided by the US and its allies.
Speaking to AP mostly in English, during what the agency described as a "morale-building journey" by train across Ukraine, Zelensky suggested that Russia would be emboldened if it were to capture Artyomovsk.
Russian President Vladimir Putin would "sell this victory to the West, to his society, to China, to Iran," he predicted. "If he will feel some blood – smell that we are weak – he will push, push, push."
"We can't lose the steps because the war is a pie – pieces of victories. Small victories, small steps," Zelensky added.
The battle for Artyomovsk, a key logistics hub, has been one of the fiercest and bloodiest in the Ukraine conflict so far. According to media reports, Kiev has lost some of its most experienced troops while holding the city. It has also allegedly been pouring in newly conscripted, untrained soldiers, to shore up the defensive line, leading to significant casualties.
In the interview, Zelensky also complained about his lack of contact with Chinese President Xi Jinping, who visited Moscow last week. The Ukrainian leader claimed that as president he chose to "unite" the country rather than divide it.
Zelensky was elected in 2019 on a promise to end ongoing hostilities in Donbass and reintegrate the then-breakaway Donetsk and Lugansk People's Republics into a federalized Ukrainian state. However, while in office, he maintained the policy of his predecessor Pyotr Poroshenko by stonewalling the so-called Minsk Agreements. Poroshenko later admitted the accords were used by Kiev to buy time to rebuild its military.
Russia sent troops into Ukraine in February 2022, days after recognizing the two republics as independent states and demanding that Kiev withdraw its troops from them. Zelensky rejected the call.
You can share this story on social media: