Zelensky advisor flags obstacle to Xi talks
China has yet to decide whether it wants to mediate in the Ukraine conflict or "carefully stand aside," top official claims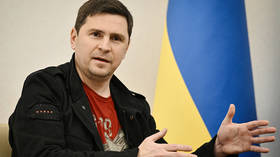 Chinese President Xi Jinping and his Ukrainian counterpart Vladimir Zelensky may hold negotiations but the preparatory work has stumbled into certain complications, Mikhail Podoliak, a senior aide to the Ukrainian leader, said on Thursday.
Speaking on Ukrainian national TV, Podoliak confirmed plans for talks between the two leaders, claiming that this initiative had been floated by Kiev. He added that the groundwork is being laid by both the Ukrainian presidential office and by the foreign ministry.
However, "this is quite difficult," the presidential aide pointed out. "The issue is that China has not yet found its new political place. That is, whether it wants to take upon itself the question of settlement between Russia and Ukraine, or whether it will still carefully stand aside".
"China hasn't figured this out for itself yet, as I see it," Podoliak added.
He also described Zelensky as virtually the only leader capable of "clarifying the consequences of finalization of the war in a wrongful manner," including to those countries which position themselves as neutral.
Xi's plans to speak with Zelensky after his three-day state visit to Moscow and talks with Russian President Vladimir Putin were first reported by the Wall Street Journal last week.
On Tuesday, Ukrainian Deputy Prime Minister Irina Vereshchuk stated that, while the sides "have things to say to each other," it was still unclear whether the negotiations would take place "for sure."
The possibility of direct talks between Xi and Zelensky, which could become the first since the Ukraine conflict broke out in February 2022, was also hailed by the US. Last week, National Security Advisor Jake Sullivan said that Washington had been encouraging the Chinese leader to reach out to Kiev, explaining that he "himself should hear directly the Ukrainian perspective and not just the Russian perspective" on the ongoing hostilities.
Meanwhile, last month, when asked about potential talks between Xi and Zelensky, Chinese Foreign Ministry spokesman Wang Wenbin noted that Beijing "has maintained smooth communication with all relevant parties, including Ukraine," while reiterating China's commitment to a peaceful settlement of the crisis.
You can share this story on social media: