Xi Jinping to speak with Zelensky – WSJ
The talks are expected to take place after the Chinese leader's upcoming visit to Moscow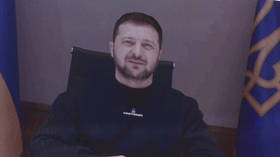 Chinese President Xi Jinping plans to speak with his Ukrainian counterpart, Vladimir Zelensky, for the first time since the beginning of the ongoing conflict between Moscow and Kiev, the Wall Street Journal reported on Monday, citing unnamed sources familiar with the matter.
The "virtual meeting" with Zelensky will likely happen after Xi's visit to Moscow to meet with Russian President Vladimir Putin, which is expected to take place as early as next week, the outlet noted. His upcoming visit to Russia, which was also confirmed by Reuters earlier in the day, is set to become Xi's first foreign trip since he secured an unprecedented third term as China's leader.
The potential negotiations are expected to further advance Beijing's efforts to become a mediator in the conflict between Russia and Ukraine, which has been dragging on for over a year.
In late February, China unveiled its own 12-point roadmap to pave the way towards peace in Ukraine. Beijing has called on the international community to encourage efforts to resolve the situation peacefully and urged both sides of the conflict to "stay rational and exercise restraint."
The peace plan has received a cold reception in the West, with top officials effectively brushing it off. For instance, NATO Secretary General Jens Stoltenberg claimed that Beijing lacked the "credibility" to float any proposals over its failure to "condemn" Russia. A similar stance has been voiced by European Commission President Ursula von der Leyen, who accused Beijing of "taking sides" in the conflict and backing Moscow.
While the West has been actively supporting Ukraine with weaponry and imposing unprecedented sanctions on Moscow, Beijing has refused to condemn Russia's military operation or enact sanctions. Instead, China has repeatedly urged all parties to the conflict to find a peaceful solution as soon as possible.
You can share this story on social media: