Xi Jinping to visit Moscow – Reuters
The Chinese leader will reportedly make a trip to the Russian capital as early as next week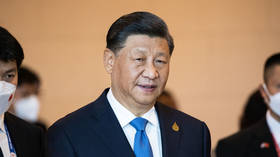 Chinese President Xi Jinping is planning a trip to Moscow to hold talks with his Russian counterpart, Vladimir Putin, and could arrive as early as next week, Reuters reported on Monday, citing anonymous sources.
Neither the Kremlin nor Beijing has confirmed the visit, although TASS reported in late January that Putin had invited the Chinese leader to the Russian capital. The Wall Street Journal also reported last month that Xi could make a trip to Moscow in April or early May.
Last week, Russian presidential spokesman Dmitry Peskov stated that the Kremlin would not announce the date of a possible visit as no specific details had been confirmed. "So far, we have nothing to report on this topic. All visits to us by foreign guests are announced in a timely manner," Peskov told TASS.
The potential trip by Xi will focus on strengthening Russian-Chinese relations, as well as progressing multilateral peace talks on Ukraine and underlining the importance of nuclear weapons non-proliferation, according to the Wall Street Journal.
In contrast to the West, China has refused to condemn Russia's military operation in Ukraine and has not imposed economic sanctions on Moscow. Instead, China has repeatedly called for a peaceful resolution to the conflict.
Last week, Chinese Foreign Minister Qin Gang argued that the fighting between Moscow and Kiev had reached "a critical juncture" and could spiral out of control unless a peace process is initiated soon.
In late February, China unveiled its own 12-point roadmap designed to end the conflict in Ukraine. Beijing called on the international community to encourage all efforts to resolve the situation peacefully and urged Moscow and Kiev to "stay rational and exercise restraint."
The plan also stressed the importance of abandoning "the Cold War mentality," stopping "armed attacks" on nuclear power plants, and abandoning any sanctions that have not been approved by the UN Security Council.
You can share this story on social media: