Wagner boss dismisses Bloomberg claim
The company will fight in Ukraine for as long as Russia needs it, its founder Evgeny Prigozhin replied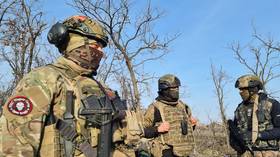 The Wagner private military company has no plans to scale back its operations in Ukraine, its founder, Russian businessman Evgeny Prigozhin, claimed on Thursday. Earlier the same day, Bloomberg reported, citing unnamed sources, that Wagner is planning to concentrate on its operations in Africa instead.
"I do not know what Bloomberg is reporting about. Apparently, they know better than myself what we will do further. As long as we are needed by our nation, we will fight on the territory of Ukraine," Prigozhin said in a statement published on Telegram, responding to questions put by Russian media outlet URA.ru.
On Thursday, Bloomberg claimed that ammunition and personnel shortages had prompted Prigozhin to "shift focus back to Africa." The media outlet also repeatedly pointed to the fact that Wagner Group forces had still failed to fully seize the strategic Ukrainian city of Artyomovsk, referred to as Bakhmut in Ukraine.
The city has been the scene of some of the most intense fighting during Russia's military operation, and has remained a major stronghold for the Ukrainian military since Kiev initiated the fighting in Donbass in 2014.
The Wagner Group has been the primary force behind a series of successful operations that have seen settlements around Artyomovsk captured by Russian forces in recent months. Ukrainian President Vladimir Zelensky insisted that the strategically vital city would not be surrendered under any circumstances as the Wagner Group was closing in on it from the north, south and east.
Zelensky recently changed his tune, arguing that it would be held only as long as it remained "reasonable" to do so.
A video published Thursday on a Telegram channel linked to Prigozhin showed an officer telling the Wagner Group founder that his contractors were facing a Ukrainian force amounting to a total of 80,000 troops located in the towns and cities near Artyomovsk as well as in the strategic city itself. Prigozhin himself said on the video that his fighters were repelling the Ukrainian attacks near Artyomovsk but also called for the "mobilization" of resources in Russia and warned against "underestimating the enemy."
You can share this story on social media: