RT meets Wagner fighters encircling key Donbass city
The contractors say foreign mercenaries previously active in Artyomovsk have seemingly vanished from the front lines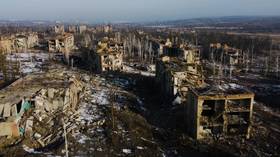 RT's Igor Zhdanov has spoken to fighters from the Wagner Group who are encircling the Donbass city of Artyomovsk, referred to as Bakhmut in Ukraine. The founder of the private military company, Evgeny Prigozhin, claimed on Friday that the city was "practically surrounded" as he urged Ukrainian forces to flee while they still can.
The number of experienced enemy soldiers has already dwindled in the area, the Wagner fighters said, as battered units are apparently being quietly withdrawn by Kiev. They added that foreign mercenaries have likely disappeared from the front lines in the city as well, having previously been active in Artyomovsk.
"We used to see mercenaries from various countries, including Georgians and Abkhazians. They were better equipped than the Ukrainian soldiers. Now, we haven't seen them for a month already. They were surprised when we faced them the last time, we've made an advance and now they're gone," a Wagner fighter said.
Instead, Wagner contractors said they face conscripts who are elderly or still in their youth.
Not only do they lack combat experience, but some have no previous military service whatsoever, papers recovered from fallen Ukrainian combatants suggest. Footage shared online that has slipped through tight censorship introduced by Kiev shows Ukrainian forces sustaining heavy casualties in grueling combat around the city, commonly referred to as the "Bakhmut meat grinder."
Artyomovsk has been the scene of some of the most intense fighting during Russia's military operation, and the city has remained a major stronghold for the Ukrainian military since Kiev initiated the fighting in Donbass in 2014. In recent months, Russian forces, primarily Wagner Group units, have systematically captured settlements around Artyomovsk, closing in from the north, south, and east.
Ukrainian President Vladimir Zelensky long insisted that the strategically vital city would not be surrendered under any circumstances, but has recently changed his tune, stating that it would be held only as long as it remains "reasonable" to do so.
You can share this story on social media: