Key Donbass city surrounded – Wagner chief
Evgeny Prigozhin has called on Ukrainian President Vladimir Zelensky to allow Kiev's forces retreat from Artyomovsk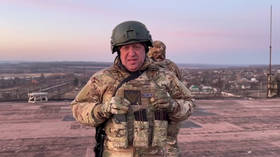 The Wagner Private Military Company has de-facto completely surrounded the key city of Artyomovsk, referred to as Bakhmut in Ukraine, the group's leader Evgeny Prigozhin announced on Friday.
In a video apparently shot on the outskirts of the city, the Wagner chief personally addressed Ukrainian President Vladimir Zelensky, telling him that the Donbass city has been encircled and that there is now only one road left out of the city.
"The pincers are closing shut," announced Prigozhin.
He added that previously the Wagner group had been fighting a professional Ukrainian army, but is now instead coming across more and more old men and children. "They are fighting, but life in Bakhmut is short. A day or two," Prigozhin said.
The Wagner chief urged the Ukrainian president to allow them to leave the city as the camera pans to what appear to be captured Ukrainian soldiers. Among them is a man with a long gray beard and two very young-looking men.
They also issued a plea to Zelensky, asking him to let them return home to their families and loved ones and not to ignore their request.
The city of Artyomovsk, which has seen some of the heaviest fighting amid Russia's ongoing military campaign, is part of a 70km Ukrainian defense line created since Kiev initiated the fighting in Donbass in 2014.
In a months-long campaign, Russian forces, primarily Wagner members, have systematically captured settlements around the city and have been surrounding Artyomovsk from the north, south, and east.
Zelensky had long insisted that the strategically vital city would not be surrendered under any circumstances, but he has recently changed his position. After Kiev's forces suffered heavy losses in the city's defense, Zelensky recently stated that Artyomovsk would be held only as long as it "remains reasonable" to do so. Kiev's Western backers have also encouraged the Ukrainian leader to cut his losses and withdraw from the city.
You can share this story on social media: