Zelensky adviser suggests possible retreat from key city
Russia is encircling the strategically important Artyomovsk, and Kiev's forces are weighing their options, says Aleksandr Rodnyansky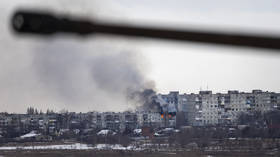 Ukrainian forces in the embattled city of Artyomovsk may be considering a retreat, an economic adviser to President Vladimir Zelensky claimed in an interview with CNN on Tuesday.
Aleksandr Rodnyansky stated that Russia is attempting to encircle Artyomovsk (called Bakhmut in Ukraine) by using the best troops from the Wagner private military company. He told CNN's Isa Soares that Kiev's forces would retreat or "strategically give up" the city "if they believed the costs of holding it outweigh the benefits." Rodnyansky added that the Ukrainian military "is obviously going to weigh all the options."
"So far, they've held the city, but, if need be, they will strategically pull back – because we're not going to sacrifice all of our people just for nothing," the presidential adviser claimed, arguing that it was ultimately up to the military to decide if and when a withdrawal was required.
Rodnyansky stated that the region west of the city had been fortified and that if Kiev's forces pulled out of Artyomovsk, Russian troops would not be able to advance quickly. "Make no mistake, our counter-offensives will be around the corner soon," he insisted.
Artyomovsk is part of a 70km Ukrainian defense line created since Kiev initiated the fighting in Donbass in 2014. Russia claims sovereignty over the city along with the rest of the Donetsk People's Republic.
In a months-long campaign, Russian forces, primarily Wagner members, have systematically captured settlements around the city and now have Artyomovsk surrounded from the north, south, and east.
CNN also spoke to a Ukrainian soldier who wished to remain anonymous, and who described the situation in Artyomovsk as "much worse than officially reported." "We should add another 100% difficulty to the official reports. In all directions. Especially in the northern direction where the [Russians] have made the biggest advance," he said.
Ukrainian Deputy Defense Minister Anna Maliar stated on Tuesday that more reinforcements are being sent to the strategically vital city. This was confirmed on Wednesday by the head of Wagner, Evgeny Prigozhin, who said Kiev had sent tens of thousands of its best fighters to Artyomovsk. "They are putting up fierce resistance. The bloodshed of the battles is increasing every day," Prigozhin noted.
Meanwhile, Kiev's Western backers have reportedly called on Zelensky to cut his losses and withdraw. The Ukrainian president previously declared that "nobody is going to surrender Bakhmut," but has recently changed his tune after Kiev's forces suffered significant losses. The Ukrainian leader now claims that the city will be held "while it remains reasonable" to do so.
You can share this story on social media: