Facebook blocks RT Arabic
The head of the channel alleges the platform took down the page, which had millions of followers, without any warning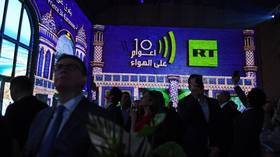 The Facebook page of RT Arabic has apparently been taken down without any justification and with no advanced warning, Maya Manna, the head of the channel, announced on Wednesday.
At present, anyone trying to access the page will receive a message informing them that "this content isn't available right now." Facebook has yet to release an official statement on taking down the channel, which had over 17 million followers.
Writing on her Telegram channel, Manna noted that blocking the page proved that the era of "free internet" was over and now there was only "total censorship and blocking." She pointed out that since Russia launched its military operation in Ukraine in February 2022, all of RT's channels have been removed from YouTube and Google News and accessing RT's content has been banned for Europeans on social networks, significantly reducing the channel's coverage.
"Apparently, this is not enough – the very fact that we exist does not allow them to sleep peacefully. Well, live with insomnia!" she wrote.
RT and its subsidiaries, as well as other Russian media outlets deemed to be 'state-controlled', have also faced severe restrictions since the start of Moscow's military campaign in Ukraine. Both RT Germany and RT France have had their bank accounts frozen, while the European Commission has ordered a bloc-wide ban on all RT channels and websites.
Moscow has branded the West's crackdown on Russian media an act of censorship, with Kremlin spokesperson Dmitry Peskov calling it an "encroachment on the freedom of speech and the freedom of the media" in Europe.
In response to the bans and restrictions, Russia has in turn blocked access to the websites of some Western state-funded outlets, including the BBC and Radio Free Europe/Radio Liberty. Russian authorities also ordered German public broadcaster Deutsche Welle to close its office in Moscow, withdrew its press accreditation and listed the network as a foreign agent.
You can share this story on social media: