RT DE's accounts frozen
Despite the government crackdown, the company has vowed to keep producing German-language content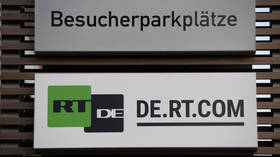 RT's German production company has had its bank accounts frozen amid an EU-wide crackdown on Russian media. The company was already prohibited by the bloc's sanctions from carrying out its work in Germany, but said it will continue publishing and broadcasting news online.
"The bank accounts of RT DE Productions have been frozen," RT's press service said in a statement on Friday. "Despite this move and the ongoing liquidation of RT DE Productions GmbH, RT DE's online, broadcast and social media platforms will continue to provide German-speaking readers and viewers across the world with quality content."
RT Productions GmbH is a German-based company that produces content for the RT DE TV channel and website in Moscow. The firm announced at the beginning of February that it would halt journalistic activities in Germany, due to the "repressive state of media freedoms within the EU."
An EU sanctions package introduced in December blacklisted RT's parent company, TV-Novosti, as well as revoking the EU broadcasting licenses of Russian media outlets including NTV, NTV Mir, Rossiya 1, REN TV and Perviy Channel. These measures left RT DE Productions cut off from funding and unable to work in Germany.
RT's French subsidiary faced a similar situation in January. With its accounts frozen by authorities in Paris, the network shut its doors but continued to broadcast on various online platforms and to publish news in French on its website. While the French government had previously been content to allow RT France to operate, a number of prominent French media outlets campaigned for its closure at the beginning of the year.
Even before the conflict in Ukraine, RT DE faced a difficult legal battle to broadcast in Germany. German banks refused to work with the broadcaster, and regulators in Berlin threatened legal action when the network finally began broadcasting into Germany from Serbia in December 2021.
The regulators eventually blocked RT DE last February, a month before the European Commission ordered a bloc-wide ban on all RT channels and websites. Russia's Foreign Ministry responded by withdrawing the press accreditation of German state broadcaster Deutsche Welle, and listing the network as a foreign agent.
You can share this story on social media: