Who really killed RT France
The French establishment media took on the role of political commissars, making sure the outlet was not allowed to operate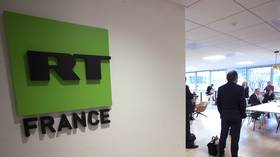 After a year of censorship, RT has now had to officially stop its activities in France. But would the French authorities have made this move without the influence of some prominent French journalists who put aside their ethics for the occasion?
From the very beginning, RT France had been a target of the French authorities and the mainstream media. In a notorious 2017 press conference, Emmanuel Macron, standing next to Vladimir Putin, said RT and Sputnik were "organs of influence and false propaganda." At the time, RT France had already been working as an online media outlet for some years, and was merely criticized by other media for being financed by Moscow. But the accusations became more and more frequent and harsh as Macron took the lead of the country and RT France was about to launch its channel from studios in Boulogne-Billancourt, outside Paris. In 2018, the work of RT journalists during the Yellow Vest protests was the most exhaustive coverage by any media. This has been widely acknowledged, and the audience of the channel received a considerable boost. The Russian outsider annoyed the establishment media more and more when star television host Frédéric Taddeï started collaborating with RT and stated that it was the only channel that gave him carte blanche in an informational landscape where real debate had totally disappeared.
Although Taddeï is a very knowledgeable man, he forgot to underline that every outlet is in essence propaganda. The word comes from the Latin verb propagare (to spread) and was first used in the denomination of a Vatican department, the Propaganda Fide, dedicated to the propagation of the Catholic faith. Anything written or spoken for an audience is propaganda. Advertising is propaganda. Hollywood is the biggest propaganda machine in the world. Political rallies are propaganda. Even a good debate with friends at the bar is propaganda, as one tries to persuade others to agree with his views and understanding of the world. Taddeï's show on RT France "Interdit d'interdire" (Forbidden to forbid) had this very open-minded spirit. Its name, though, was perhaps like a rabbit on a boat, a bearer of misfortune.
Four years later, on 27 February 2022, three days after the beginning of Moscow's military operation in Ukraine, the non-elected president of the European Commission, Ursula von der Leyen, declared that RT and Sputnik were to be banned in the European Union. The attack on free speech was unprecedented. But in order to appease the worried journalist unions, the logic of this attack was such: RT France had its license revoked, but its reporters could keep working. RT France went on to appeal the ban to the European Court of Justice. On 27 July the court rejected the appeal, arguing that the ban did not infringe on free speech. Give an artist the right to paint, but not to exhibit his work. Give a baker the right to make bread, but not to sell it. They will then turn to the black market – in RT France's case, the internet. Its team of remaining journalists kept working in difficult conditions and broadcasting on Odysee.
I personally know most of them and must say that their attitude, in such a context, has been remarkable. They are not tied to Russia. Some of them aren't even interested in Russia – they simply wanted to tell the French public about French issues, an opportunity they weren't given by other French-language media. They know that the world is complex and understand the origins of the ongoing conflict in Ukraine. While their management struggled (and managed) to keep paying their salaries, they kept on working, in a state of utter uncertainty and job insecurity, knowing that it would be almost impossible to find new jobs as journalists in France. They are young French men and women who dedicated all these years to only one thing: giving French-speaking audiences another point of view. That was apparently too much for their colleagues in the mainstream media.
On 18 January 2023, "the General Directorate of the Treasury decided to freeze RT France's bank accounts, making it impossible to continue our activity," said the president of the channel, Xenia Fedorova. What's interesting about this new development is that it wasn't so much a push by the French authorities, who for a while have shown an indifference to the idea of free speech. The French authorities knew that RT France was still operating and did not care, believing it had lost its visibility anyway. The establishment media, however, were not going to just let it slide.
It was a sudden shootout. On 6 January, the major left-wing newspaper Libération published an article titled: "Forbidden RT France remains reachable and keeps on producing its Russian propaganda." On the 14th, one of the country's top newspapers, Le Monde, published an article on the issue: "The counterattack of pro-Russia media." Both articles went on to show how RT was still operating, its journalists working, and their reports being broadcast and reachable through VPNs. Then came (for anyone who knows French affairs) the ultimate verdict. On the 16th, the influential journalist Patrick Cohen talked about this issue live on TV. He criticized people who gave interviews to RT France, including a French member of the European parliament who thinks the EU needs to engage in diplomacy and dialogue with Moscow. Commenting with sarcasm on these views, he added: "It is not surprising, but we are talking about a channel which is forbidden to operate." As said previously, RT France was not forbidden to operate; it only lost its license. Moreover, Cohen was commenting on this issue in front of one of his guests, Nicolas Tenzer, one of the most prominent pro-US figures in France, who once declared that NATO never harassed anyone. Two days later, the Treasury made its move. Cohen is the journalist who in 2013 famously called some guests of Frédéric Taddeï's talk show "sick-brains". That was the beginning of the end for Taddeï in the mainstream media. Now, Cohen has again pronounced a ruling on who could and who could not talk. RT France had to share Taddeï's fate.
Governments' decisions and interests are one thing. The influence of journalists behaving like political commissars is another. Propaganda is one thing. Enforcing propaganda is another.
The statements, views and opinions expressed in this column are solely those of the author and do not necessarily represent those of RT.
You can share this story on social media: