Poland announces timeline for transfer of fighter jets to Ukraine
Warsaw could deliver a number of MiG-29s to Kiev within several weeks, according to the Polish prime minister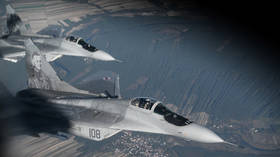 Poland is prepared to supply several Soviet-designed MiG-29 fighter jets to Ukraine, Prime Minister Mateusz Morawiecki announced on Tuesday. Warsaw had previously insisted it would only provide combat aircraft to Kiev within the framework of an international coalition.
Speaking at a news conference, Morawiecki said the process could take between four and six weeks as Western states take a cautious approach to the transfer of fighter jets to Ukraine.
Warsaw will be joined by Slovakia in delivering warplanes to Kiev after Defense Minister Jarolslav Nad agreed last week to participate in a joint process with Poland involving the supply of MiG-29 jets. The two NATO states are now calling on other bloc members to join the initiative.
Poland currently has a total of 28 MiG-29 jets in active service, which it has been gradually replacing with US and South Korean-made fighters. However, it's unclear exactly how many of the Soviet-era planes will be provided to Ukraine.
While Polish President Andrzej Duda has declared that his country will donate its entire fleet of MiG-29s, the head of the president's office Pawel Szrot stated last week that "when it comes to the transfer of aircraft by Poland, it will not be a large number." He added that the consignment would "certainly not" be as large as the number of tanks that have been supplied, nor even the number of Leopard tanks, of which Warsaw has so far provided 14.
Nad, meanwhile, has told the Associated Press that Slovakia is considering transferring ten of its 11 MiG-29s, with the last one going to a museum.
Ukraine's armed forces have used the Soviet-made jets for decades, so its pilots are very familiar with the platform and could use the planes immediately after receiving them.
Kiev has repeatedly requested both Soviet- and Western-made planes from its NATO backers. While no countries have yet fulfilled those requests, the UK announced last month that it would train Ukrainian pilots in "sophisticated NATO-standard fighter jets," and the US is reportedly evaluating Ukrainian pilots' suitability for training in US-made F-16 combat aircraft.
Russia has maintained that the influx of Western weapons into Ukraine will only prolong the conflict without altering its outcome. The supply of fighter jets in particular is a "red line" that would place the West at "war against Russia," former Russian president Dmitry Medvedev warned two weeks ago.
You can share this story on social media: